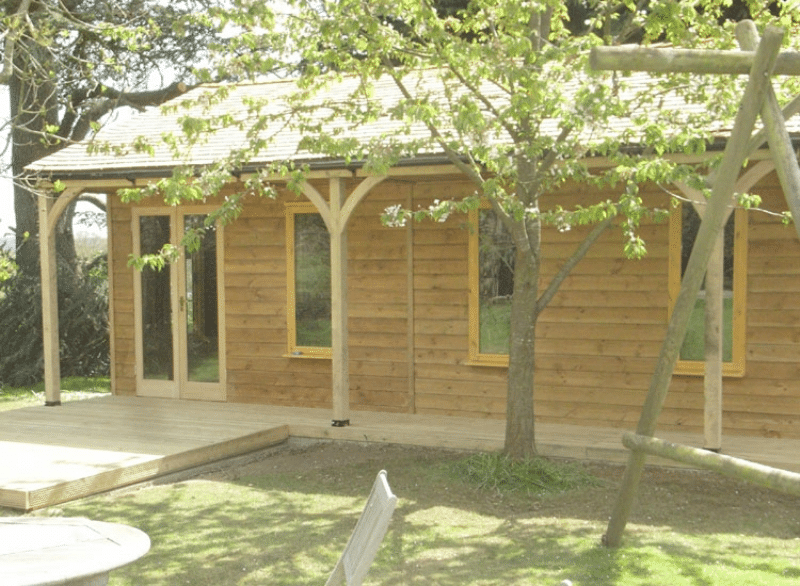 Lean-to Garden Buildings
A lean-to garden room is a wonderful way to add some space for the outside that provides a comfortable amount of cover. This can also give you a living or working area with a high amount of sun, something our customers in the UK greatly appreciate.
A lean-to garden room has the benefit of not requiring any planning permission. As with all of our buildings, they are also of an extremely high quality and are available in a range of wooden designs.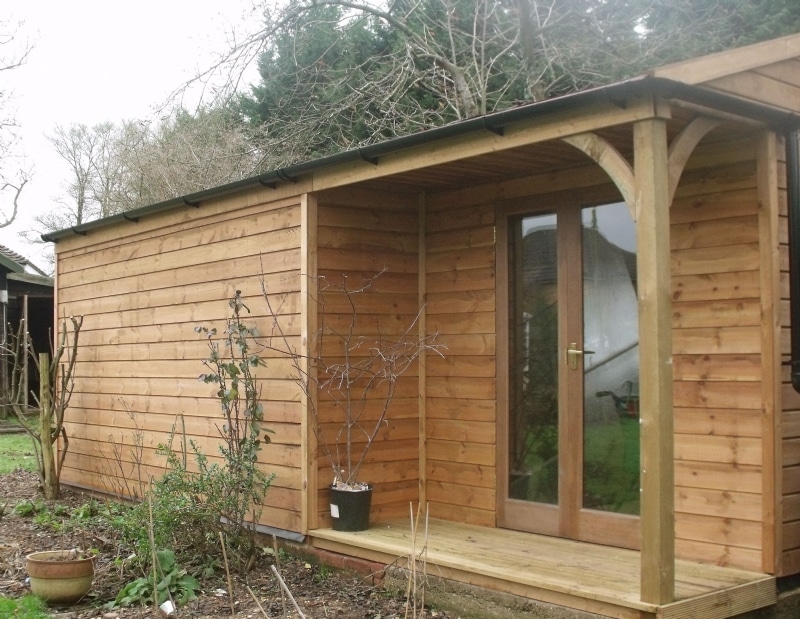 Our garden buildings are suitable for a variety of activities. Garden rooms are a familiar sight in many areas and people use them for the following common reasons:
Working areas: Garden offices provide a workspace that is away from the domestic setting. With people increasingly working remotely this is a common use.
Lounges and summer houses: An outside lounge and relaxation space is beneficial for an alternative or additional living area. They can be perfect for a smaller television room or as a reading area.
Sun rooms: Light and brightness is at a premium in the UK, and there are lots of lean-to designs that maximise the amount of light from the outside and create very bright, airy spaces
Conservatories and greenhouses: Many people enjoy growing their plants or flowers. A well-placed lean-to can create the perfect environment for growing many plants throughout the year.
A garden room with a lean-to design is a great choice for people looking for an alternative to an extension on their house. You should contact us today to find out more about pricing and get your project underway.
What exactly is a lean-to?
A lean-to is a building with a sloping roof. They get their name because many designs attach to an existing building and the rafters of the roof lean against the other wall. However, there are also free-standing lean-to structures
Some people use a lean-to as an addition to a building, for example as a shed. Modern lean-tos can be large enough to incorporate furniture for use as a garden room or another use. It is possible to kit out lean-to's with power and internet connectivity.
Historically people have made use of lean-to's for simple shelter, to cover external areas including stairs or entrances and as sleeping areas for fishing or hunting trips.
Some of our garden room designs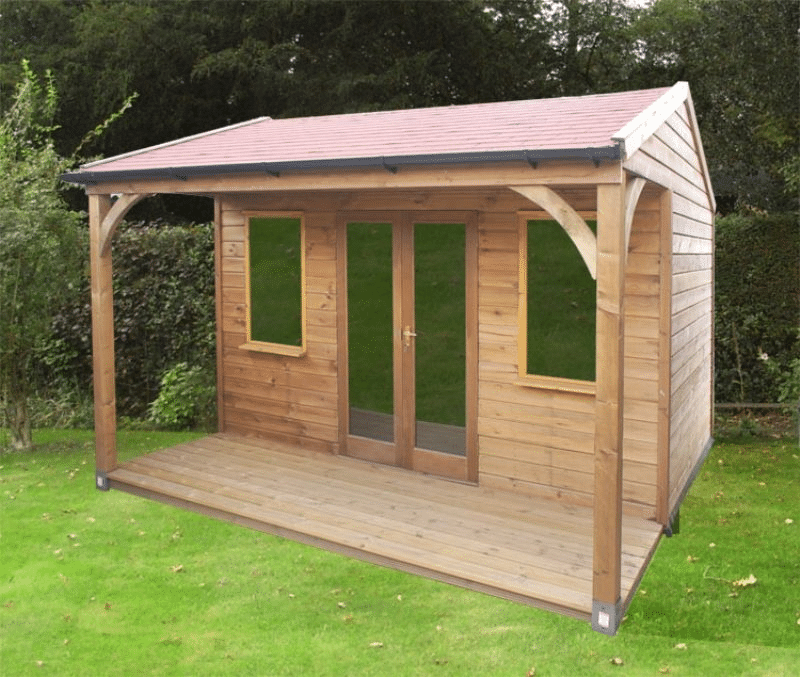 When is a lean-to garden room better than a freestanding design?
Lean-tos look as though they are leaning on the side of your house. They create a very compact and space-saving addition for a building. People with smaller garden areas find our lean-to designs fit well within their available space.
Space aside, you will enjoy the following benefits to a lean-to:
Attaches to your main building
The fact that our lean-tos will usually attach to the outside of the building is something that customers find appealing. It creates a sense of freedom and flexibility and comes with many options for customisation.
By having the lean-to on the house itself there is a possibility for a mixed-use area. For example, it may be useful as a sun room in the winter and a conservatory in the summer.
Many free-standing garden rooms are further from the main house. Lean-tos provide more direct access and may cover external doors for an experience that brings the outside inside.
A full-service construction
We take care of delivery and installation from start to finish. Some people choose to use a kit to build their lean-to, but you may find it a little intimidating to construct a building yourself, but our expert team are there to assist you all the way. This level of service gives us many happy customers.
Cheap costs
Lean-to's are good for people on a budget. Freestanding summer houses and garden buildings are more time-consuming and require different materials to build. They have a simpler construction method than a free-standing garden room, which can make them easier to construct and saves on costs.
They are also much cheaper to build than a more traditional extension. Extension rooms will usually use materials including bricks and cinder blocks, as they are more directly a part of the main house, so are much more expensive.
High levels of light and brightness
Lean-to's can let in a high amount of sun, something many people in the UK enjoy. In winter a lean-to can provide a feeling of being outside without the cold temperatures.
Designs typically include a large number of windows to let light in, and the doors may feature extensive glass to let further light and sun. These can open and close for even more flexibility of light. Some will also feature a glass roof.

Contact Us Today
Get in touch today to discuss your requirements. Don't see a design that you like? Don't worry; we are proud to offer bespoke design services to all of our clients. So, if you have any specific requirements in mind, please do not hesitate to get in touch. We would be more than happy to advise you and answer your questions. Call us today!
What our Clients are saying…
I just wanted to write and tell you how well the field shelter went up last Friday here at Hayling Island. Both Ben and Ryan are lovely lads, very efficient and professional, a joy to have on the yard. We are all very impressed with the workmanship that has gone into the build before it arrived on site and Nigel, my little pony who cannot be stabled absolutely loves it. He is no longer wading through fetlock deep muddy sticky ground. A big thank you, please from all of us to all of you.
I instructed Sarah (MD) to visit my property to discuss the replacement of a Tractor shed, two stables and a tack room. Sarah's ideas and plans for the new proposed building were excellent and very clearly understood. This would become even more apparent when I received the professionally drawn up planned details just a few days later. Nothing was left to chance and all minor details of the building were fully explained to me before I agreed our deal...I would thoroughly recommend Prime Stables for an excellent new building that is both practical and functional which has more than surpassed my greatest expectations.
Hi Kim. I would just like to thank you, Paul, John Ross and Krzysztof for my lovely shelters, I couldn't think of a better company to go to. You have all been so efficient and helpful. The horses like the shelters so much that they refuse to go in them as they might spoil them! We will have to think of something else to build now just so we can use you again. Bestest wishes, Kate.
Dear Sarah. Your chaps did a great job on the stables and we are 100% happy with the installers and the stables. Many thanks and I will recommend you if anyone asks me about the stables. All the best. Adam.
Dear Nikkie. Just a quick note to let you know how delighted we are with the new field shelter and tack room that was delivered today. We are extremely impressed with the quality of the product and the whole process of choosing and purchasing through Prime Stables was very easy due to the care and professionalism you showed. We cannot thank you enough, and will definitely be in touch when we are ready to build our new stables. Thanks again. Jessie (and all the alpacas).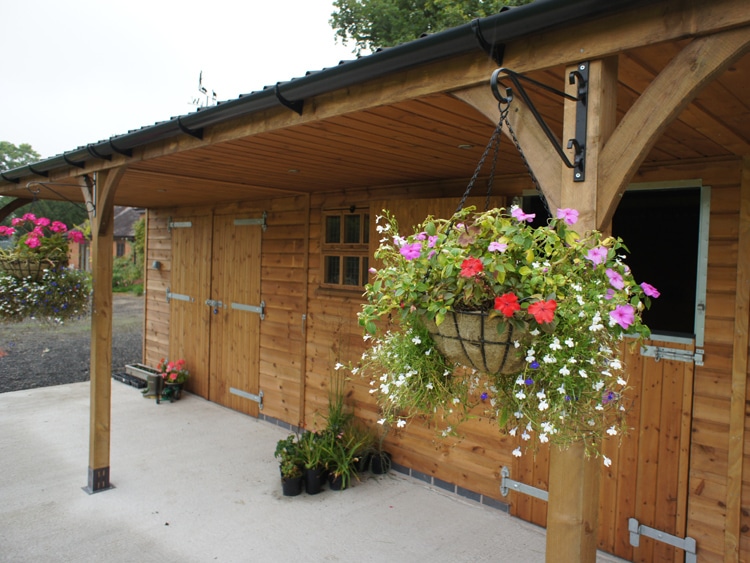 Lean-to garden room designs and installation
Begin the process of building your lean-to garden room, or any other type of building, by calling us today or requesting a callback.
We are a family-run business and have experience dating back to the company's early days in 2003. We have a passion for animals and horses but are always ready to tailor our buildings to the individual needs of our clientele.
If you're still not sure what building is best for you, please request a brochure or take a look at our blog for more ideas and information.
Need some more information on prices? Speak to us today!