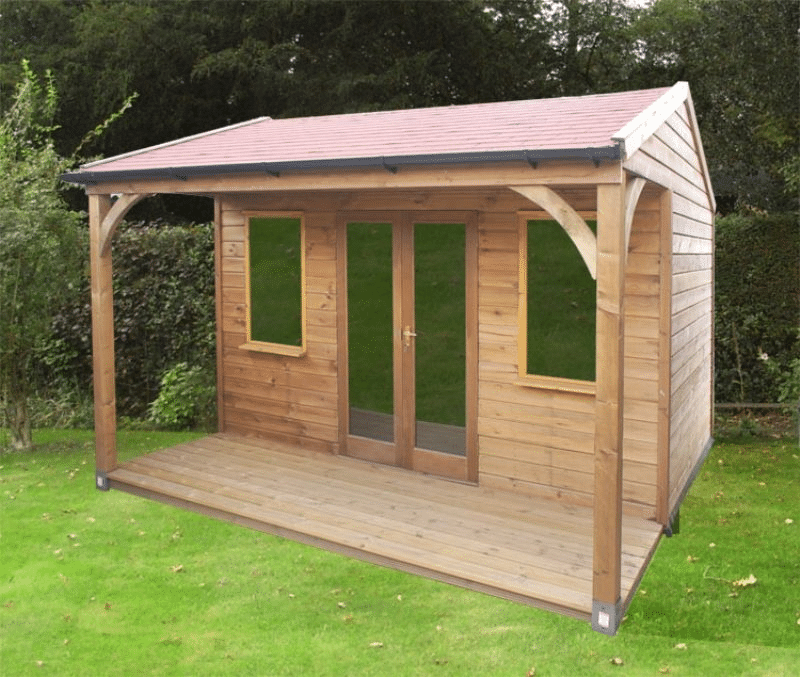 Garden Rooms – Surrey
The Surrey countryside affords an opportunity for garden rooms that have much more superior capabilities than those in urban areas. An important advantage is the beauty of the countryside and that there is usually considerably more room
People design their garden rooms for a range of dynamic uses. People can pick a use for their garden room that fits whatever their lifestyle demands. This use may be as a yoga studio, a personal gym or a home office building.
Our bespoke design services imbue our garden rooms with a personal and unique feel. If people choose to use their building as an extension of their living areas, an insulated wooden building can beautifully enhance outdoor relaxation.
Why is a garden room a good choice in Surrey?
We manufacture all of our garden rooms using the highest quality timber from the Sussex countryside. Our bespoke designs deliver a high level of customisation for our customers, which means people always get exactly what they want. There are some interesting aspects of Surrey, and other more rural locations in the UK, that make it an ideal place for many people to build a garden room.
Aspects of Surrey that make it an appealing place for a garden room include:
Space for design
Urban areas usually have limits on space. Regulations can also dictate the scope of a design in a city, as planning rules may say that the building can only take up a certain percentage of the garden.
In Surrey many people can enjoy larger garden rooms than in cities such as London. This is ideal for people who are seeking multiple garden rooms or those who desire rooms that are capable of multiple uses.
Harmony with nature
While our garden room designs are always pleasant to look at, they can be very visible in urban areas without much natural cover. In countryside areas, such as Surrey, it is easier to find spaces for buildings that are more discreet.
It is also usually easier to place plants and hedges around a garden room, to help nestle the building within natural surroundings. Plants and other natural materials can also provide cover from the weather in more rural locations.
Indoor and outdoor flexibility
Garden rooms can help many people who are seeking to make better use of their outdoor space. However, there are many considerations and extra features that may be more viable in countryside settings such as Surrey.
A garden room with an outside area is one of the principal ways to create a building with the flexibility of both indoor and outdoor use. By adding an area that provides covering, people can make use of garden furniture during rainy weather and enjoy the indoor parts of the building at the same time.
Some of our garden room designs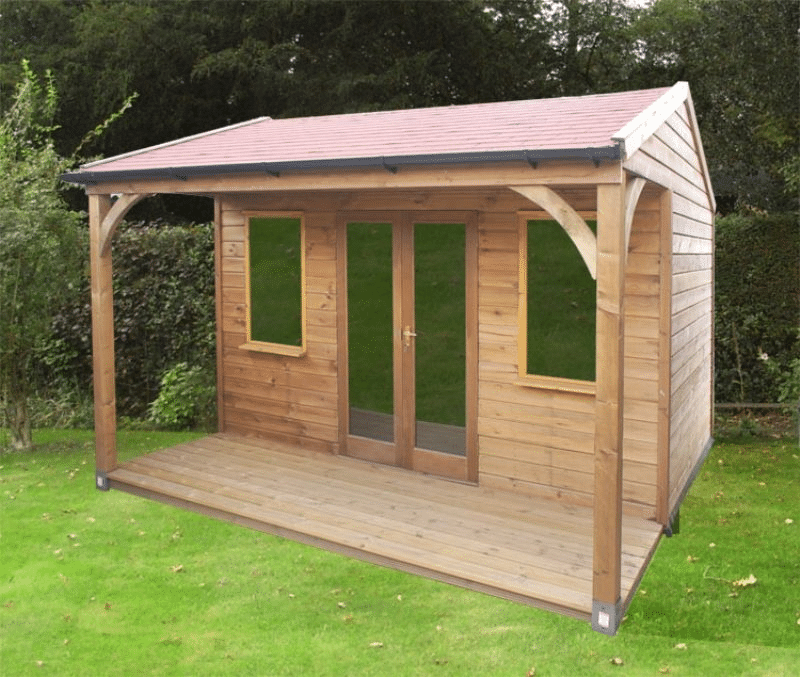 Planning and permissions
It is not normally necessary for people to obtain planning permission for a garden room. In Surrey, or other rural areas, houses will commonly have a larger amount of space and gardens are normally bigger too.
A tendency for bigger house square footage and larger garden space makes planning simpler in the following ways:
More leeway
Planning rules are there for valid reasons. However, when the rules depend on things such as the total area of the garden, it can be more difficult to keep within these limits in an urban area. In a countryside location, it is much simpler to keep within planning rules and not compromise on the building a person wants.
While everyone must principally follow the same rules, there is flexibility in a country setting as the margins are slightly broader. This makes an area such as Surrey a desirable place to install all kinds of garden buildings.
Easier boundary compliance
A garden room, summer house or other building must be located outside the boundary of the main house. Many people find this a great source of frustration when trying to build in a city.
Seeing the likelihood of having a larger piece of land and corresponding boundary attaching to the property is higher, it is easier to place such a building project more freely.
Weather resistance and insulation
Planning considerations frequently focus on the height of a building. In urban environments such as cities, people will routinely find their gardens are on a single level. This can affect planning for features such as insulation, which can add considerable height.
However, in places such as Surrey gardens may slope or undulate, and deeper foundation trenches are simpler to construct. As a result, height is less of an issue and it is possible to create a fully-insulated building suitable for year-round use.

Contact Us Today
Get in touch today to discuss your requirements. Don't see a design that you like? Don't worry; we are proud to offer bespoke design services to all of our clients. So, if you have any specific requirements in mind, please do not hesitate to get in touch. We would be more than happy to advise you and answer your questions. Call us today!
What our Clients are saying…
I just wanted to write and tell you how well the field shelter went up last Friday here at Hayling Island. Both Ben and Ryan are lovely lads, very efficient and professional, a joy to have on the yard. We are all very impressed with the workmanship that has gone into the build before it arrived on site and Nigel, my little pony who cannot be stabled absolutely loves it. He is no longer wading through fetlock deep muddy sticky ground. A big thank you, please from all of us to all of you.
I instructed Sarah (MD) to visit my property to discuss the replacement of a Tractor shed, two stables and a tack room. Sarah's ideas and plans for the new proposed building were excellent and very clearly understood. This would become even more apparent when I received the professionally drawn up planned details just a few days later. Nothing was left to chance and all minor details of the building were fully explained to me before I agreed our deal...I would thoroughly recommend Prime Stables for an excellent new building that is both practical and functional which has more than surpassed my greatest expectations.
Hi Kim. I would just like to thank you, Paul, John Ross and Krzysztof for my lovely shelters, I couldn't think of a better company to go to. You have all been so efficient and helpful. The horses like the shelters so much that they refuse to go in them as they might spoil them! We will have to think of something else to build now just so we can use you again. Bestest wishes, Kate.
Dear Sarah. Your chaps did a great job on the stables and we are 100% happy with the installers and the stables. Many thanks and I will recommend you if anyone asks me about the stables. All the best. Adam.
Dear Nikkie. Just a quick note to let you know how delighted we are with the new field shelter and tack room that was delivered today. We are extremely impressed with the quality of the product and the whole process of choosing and purchasing through Prime Stables was very easy due to the care and professionalism you showed. We cannot thank you enough, and will definitely be in touch when we are ready to build our new stables. Thanks again. Jessie (and all the alpacas).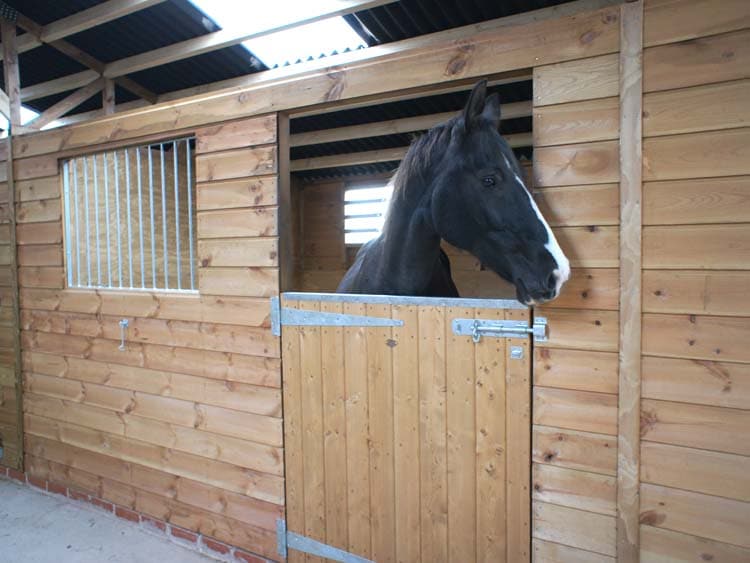 Bespoke garden rooms for Surrey and rural areas
One of the things about our services that delights our customers is that they can tailor their experience to their individual specifications. By doing this in countryside settings such as Surrey, the options have more flexibility and variety.
People must get in contact with us so they can begin their project using the highest quality timber and designers they can trust. People can also request a callback to start their garden room design as soon as possible.
Need some more information on prices? Speak to us today!