Click Here To Request Prices
Timber Framed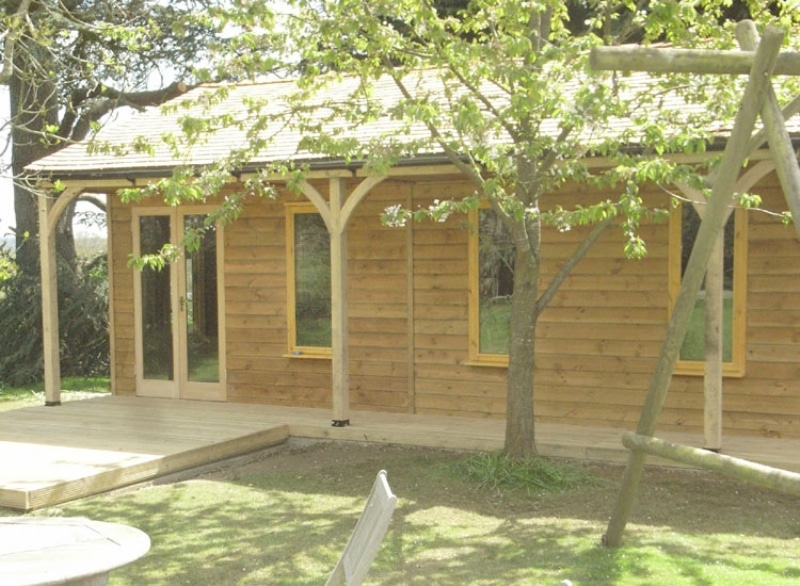 Here at Prime Stables, we take pride in being able to offer fully bespoke timber frame garden rooms that meet the needs and requirements of clients across the UK. When you choose to work with our service, you can be certain that we will craft the garden room that you have always imagined.
Contact us today if you are ready to receive the perfect room for the space that you have, which you can then adapt and decorate to suit your needs and personal tastes. We can provide you with the building you need for outdoor entertainment in summer, the ideal place to carry out your favourite hobby or even the storage space you need when your main property is starting to look and feel just that little bit cramped.
Browse through the options we have here on our website and perhaps inspiration will strike for your own garden room's needs? Alternatively, you can call us right away if you already know what you would like.
Our Timber Frame Garden Room Specifications
We craft our products using the highest quality kiln-dried timber we have available to us, providing your end product with higher levels of insulation and protection against the elements. If you are intending to use the space all year round, need it for storage or would simply like to increase your purchase's energy efficiency, we can also place lining within its walls.
To assist in the insulation process, the windows we will fit for your product come double glazed as standard. All doors installed will also be fitted with toughened glass and mortice locks, keeping any stored belongings safe and sound.
Our Bespoke Work for Timber Frame Garden Rooms
We understand completely that you will want your garden room, no matter its use, to be unique to you. This is why we product bespoke designs for each of our clients, taking into account every design, element and feature they require for their dream timber garden room. We will be happy to provide the same for you as well, so if you have an idea in mind for a personalised gym space, a cosy reading nook or a fun games room and you would like it made in a traditional oak frame structure, please contact us.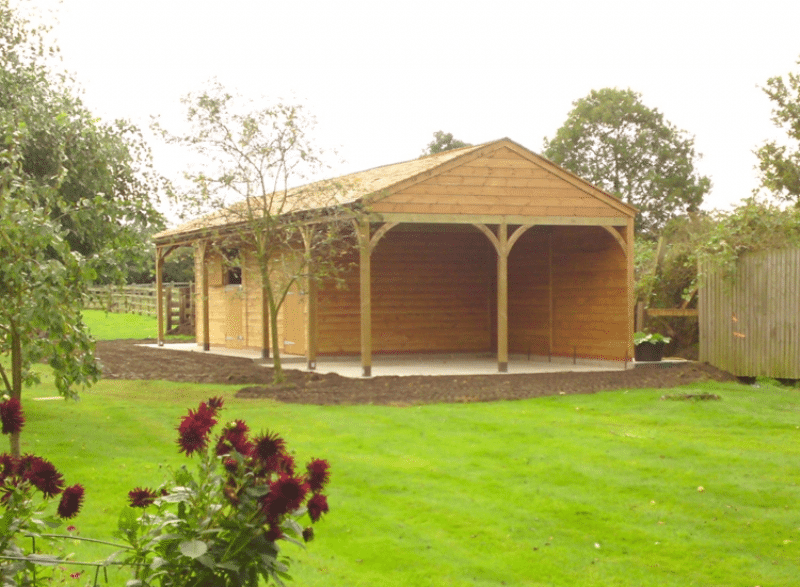 Our Prices
Every timber garden structure we provide for our clients will have been made to order, with every specification supplied by the purchaser. As such, all of our prices are quoted on an individual basis and we cannot offer a list of what each product we make will cost.
However, we do not want you to worry about what this could mean for your budget. We will instead work as closely with you as possible in order to calculate the cost of your purchase, taking into account every feature and requirement you have for your garden office, studio or planned living space. The result of this work should be a price tag which reflects the structure you need, and that suits your planned budget.
Will Your Timber Frame Garden Room Require Planning Permission?
You may be delighted (and perhaps relieved) to know that, in most cases, our timber framed garden rooms and extensions will not require planning permission. However, there are some guidelines to be followed, if you wish to make sure that your planned purchase is well within the limits. These include:
Ensuring your structure is not built in front of your property.
Keeping your structure single-storey, with a maximum eaves height of 2.5 metres and an overall height of 3 metres when single pitched and 4 metres when dual pitched.
Building any garden room extension using the same or similar materials to your original property.
Extensions should be no more than 3 metres in depth if built onto a semi-detached property, or 4 metres in depth if built onto the rear of a detached property.
Extensions must also be no greater than 3 metres in height if built within 2 metres of your property boundary, or 4 metres if located elsewhere.
Building any large timber frame garden room so that it does not exceed a floor area of 15 square metres.
Ensuring a garden room built more than 20 metres from a property on designated land (a national park, conservation area, the Broads, an Area of Outstanding Natural Beauty or a World Heritage Site) is no more than 10 square metres in floor area.
Keeping the size of all garden rooms and extensions less than half the land found around the original property (the term "original" excludes previous extensions).
Ensuring the garden room or extension is not to be built within the curtilage of a listed building.
Ensuring the garden room or extension is not going to be built to the side of a property on designated land.
We must note that it will be your responsibility to make sure you have permission from all relevant authorities, including landlords if you are a tenant, before work begins on your new garden room. This will often involve discussion with your local planning office about individual requirements, as these may differ depending on where you live. For example, some councils will require planning permission if you intend to use your structure for commercial purposes.
If you are intending to build a timber frame garden room extension seamlessly onto your home, with no doors to separate the kit from the original property, you will also likely need planning permission. Please contact your local council in order to find out more about their policy for garden room extensions.
Timber Garden Rooms and Building Regulations
You should find that your timber frame garden room will not normally require approval from Building Regulations, as long as the following conditions are met:
The floor area of the finished construction should be less than 15 square metres
The finished construction should contain no sleeping accommodation
If your planned structure is between 15 and 30 square metres, you may not have to apply for approval as long as the structure also meets the following conditions:
The building contains no sleeping accommodation and is either:
1 metre from any property boundary or
The construction was completed using mostly non-combustible materials
Why Choose a Timber Frame Garden Room from Prime Stables?
We are passionate about providing exceptional products and services for clients across the UK, and there are many reasons we remain the number one choice for those searching for their ideal timber garden room:
We are a family-run firm and we listen to the needs of our clients, so they will always receive the ideal garden room with traditional timber frames that suits all their needs and requirements.
Our friendly team will be more than happy to assist you with your purchase. They will even be able to help you make a decision for the structure you need, if you are unsure or unable to decide.
Our master craftsmen will use the highest quality timber available to craft every product we provide.
We have an in-house CAD team on hand to help you by producing planning drawings, should your garden room require an application.
Our dedicated installation team will travel to your location in order to carry out a fast, professional build for your product. This saves you the worry of putting the building together yourself, if you have been looking at garden room kits.
Complete Your Garden Space with a Timber Room
If you have been searching for the ideal way to create more room on your property, whether to engage in your most beloved hobbies, to offer you the calm, quiet work space you need to work from home or to utilise your patch of the great outdoors for summer parties and entertainment, Prime Stables can offer you a solution.
Our team will craft, deliver and install your bespoke timber frame garden room anywhere on your property, saving you costs on purchasing building kits and giving you back time that would have been spent putting it together.
Get in touch with us via the telephone or send us an email today and we'll be delighted to discuss your needs and specifications, before helping you to place an order for your dream garden room. We'll also be fully prepared to answer any questions you may have before we begin.
What Our Clients Say About Us
I just wanted to write and tell you how well the field shelter went up last Friday here at Hayling Island. Both Ben and Ryan are lovely lads, very efficient and professional, a joy to have on the yard. We are all very impressed with the workmanship that has gone into the build before it arrived on site and Nigel, my little pony who cannot be stabled absolutely loves it. He is no longer wading through fetlock deep muddy sticky ground. A big thank you, please from all of us to all of you.
I instructed Sarah (MD) to visit my property to discuss the replacement of a Tractor shed, two stables and a tack room. Sarah's ideas and plans for the new proposed building were excellent and very clearly understood. This would become even more apparent when I received the professionally drawn up planned details just a few days later. Nothing was left to chance and all minor details of the building were fully explained to me before I agreed our deal...I would thoroughly recommend Prime Stables for an excellent new building that is both practical and functional which has more than surpassed my greatest expectations.
Hi Kim. I would just like to thank you, Paul, John Ross and Krzysztof for my lovely shelters, I couldn't think of a better company to go to. You have all been so efficient and helpful. The horses like the shelters so much that they refuse to go in them as they might spoil them! We will have to think of something else to build now just so we can use you again. Bestest wishes, Kate.
Dear Sarah. Your chaps did a great job on the stables and we are 100% happy with the installers and the stables. Many thanks and I will recommend you if anyone asks me about the stables. All the best. Adam.
Dear Nikkie. Just a quick note to let you know how delighted we are with the new field shelter and tack room that was delivered today. We are extremely impressed with the quality of the product and the whole process of choosing and purchasing through Prime Stables was very easy due to the care and professionalism you showed. We cannot thank you enough, and will definitely be in touch when we are ready to build our new stables. Thanks again. Jessie (and all the alpacas).
See our Testimonials

Need some assistance?