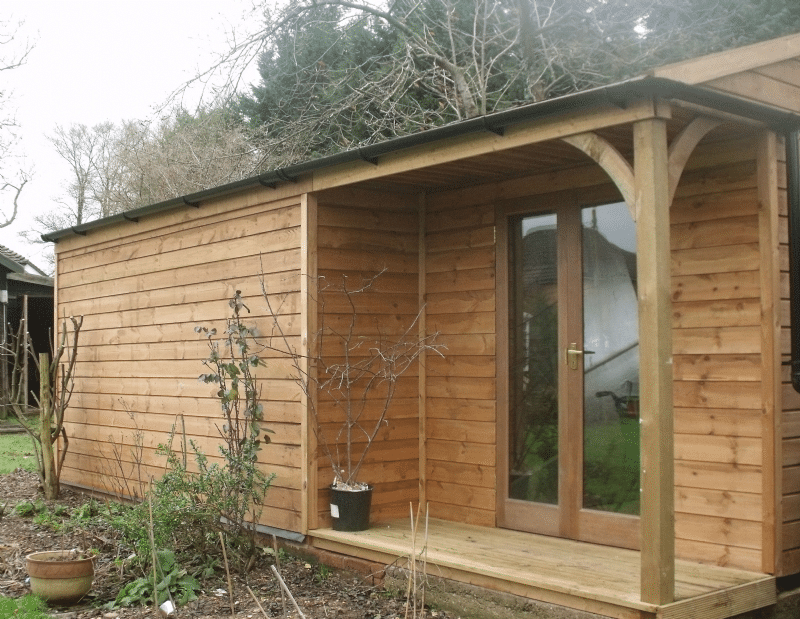 Utilise Your Space All Year with Insulated Garden Rooms
At Prime Stables, what we want most is for our clients to be able to enjoy their purchases for as long as possible, on as many days as possible. To ensure that their time spent in much wanted and wished for outdoor spaces is not cut short due to rain or cold weather in autumn and winter, we are more than happy to offer insulated garden rooms that can easily be transformed into art studios, indoor and outdoor storage spaces, or even your very own home office.
No matter what you intend to use your new garden room for, we will be able to build it to your exact specifications, in a range of sizes and designs that suit your available space as well as your needs.
Contact us via telephone or send us a message and we will swiftly demonstrate what we can do to provide you with an all-year-round work or entertainment space. We will even be glad to assist with quotes for the garden room of your dreams.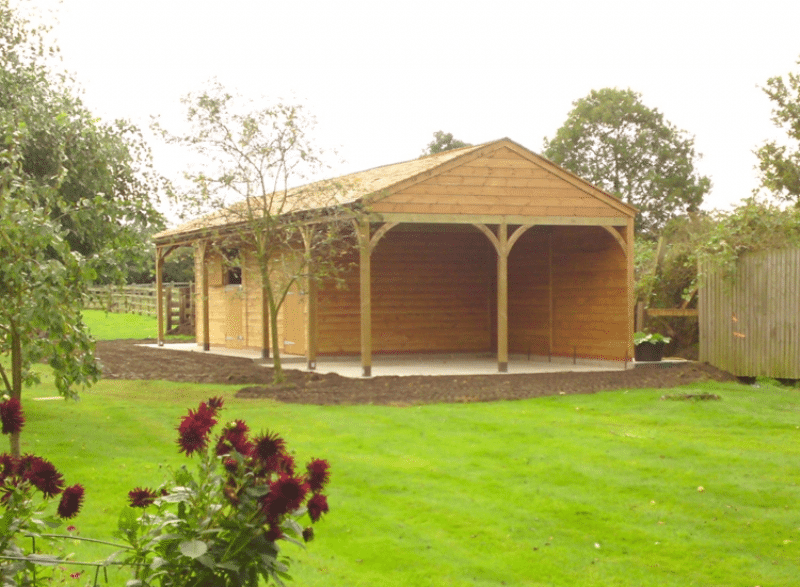 High Quality Materials for Fully Insulated Garden Room Installations
We only ever use the finest materials to craft beautiful, bespoke garden buildings for our clients. Every outdoor room we create can be ordered with fully insulated lining in the walls and ceilings as part of your specifications, but the inclusion of the highest quality kiln-dried oak timber and full double glazing as an option for your doors and windows will ensure that your new favourite home space remains cosy in the cooler months of the year.
Oak is a wonderfully versatile material, and its ability to retain heat is a beneficial feature that not every client is aware of until they feel the difference for themselves. Just imagine how much like a little log cabin your new garden room could be ‒ a traditional wooden frame that's bright and warm on the inside, keeping you comfortable as you work or take it easy, even as the weather outside turns colder. 
Not only will double glazing help to trap heat and insulate your garden room, you may also breathe a sigh of relief to know that the double glazing we use is toughened safety glass. This makes it much more difficult to accidentally damage or even purposefully break into, so you can rest assured that your garden room will remain safe, as will your prized possessions inside.
Work Closer to Nature with an Insulated Garden Office
If you often work from home, you may find that working in different places around your property often has an impact on the level and quality of your work. You may find one particular spot more relaxing than another, which puts you at ease and assists in better quality content. If you find that you work best when you can more easily enjoy the fresh air at any time of year, an insulated garden office might just be what you are looking for.
Our garden office rooms can be carefully crafted to suit any space and size requirements, so you can be certain that your desk, favourite office chair and any number of shelves or cabinets can all be placed exactly as you want them inside. You may even consider fitting in a small bookcase or two to make it into a study space, or your own personal library.
Enjoy Your Hobbies in an Insulated Garden Studio
We are often called on by clients to provide insulated garden rooms that offer them the space they need to carry out their hobbies throughout the year. We will be happy to provide this space for you as well, whether you wish to paint in a quiet space that offers you an open door into nature, need a photography studio that offers a large amount of natural light, or would like a space you can make messy by fitting in a pottery wheel. 
Our garden rooms offer a space which is as versatile as your imagination, and you can choose to keep your studio as tranquil and peaceful or as loud and exuberant as you like. Whether you are looking to practise that new yoga pose and achieve perfect balance or need a spot to rehearse a solo for an am-dram production, we can build it for you. Our larger studio spaces are even a good size to accommodate home gym equipment!

Contact Us Today
Get in touch today to discuss your requirements. Don't see a design that you like? Don't worry; we are proud to offer bespoke design services to all of our clients. So, if you have any specific requirements in mind, please do not hesitate to get in touch. We would be more than happy to advise you and answer your questions. Call us today!
Relax and Unwind in a Bespoke Insulated Summer House
The wonderful thing about insulated summer houses is that they can be transformed into practically any kind of space for your property. Even if we aren't in the middle of a summer heatwave and the cover has had to be pulled over the swimming pool, your very own summer house can still be a place for rest and relaxation. Maybe you are having friends over and would like to use the space as another living room, where you can sit and admire the changing seasons over hot drinks and some sweet treats? If your friends and family enjoy games, you may even consider turning your new outdoor room into a place to play cards or billiards.
The choice is completely yours, and knowing that your installation is fully insulated means that you can enjoy any activity you pick for the room, on any day of the year.
Safely and Securely Store Belongings in an Insulated Garden Shed
Perhaps you already have plenty of room in your home for working or dabbling in your hobbies, but need more space around your property for storage? In this case, our garden rooms are easily adapted into clean, practical garden sheds that also offer a touch of elegance. Our wide range of options for insulated garden rooms means that you can have as much dry storage space as you need, whether you are looking to keep tools and gardening equipment, materials for a business, or even extra items that you have no room for in your home.

Raised timber floors will ensure that storage bins and boxes of all shapes and sizes will be kept away from any puddles that might happen to pool near your garden shed, while the apex roof design will allow rain to run straight off, so any items stored will be kept clean and dry.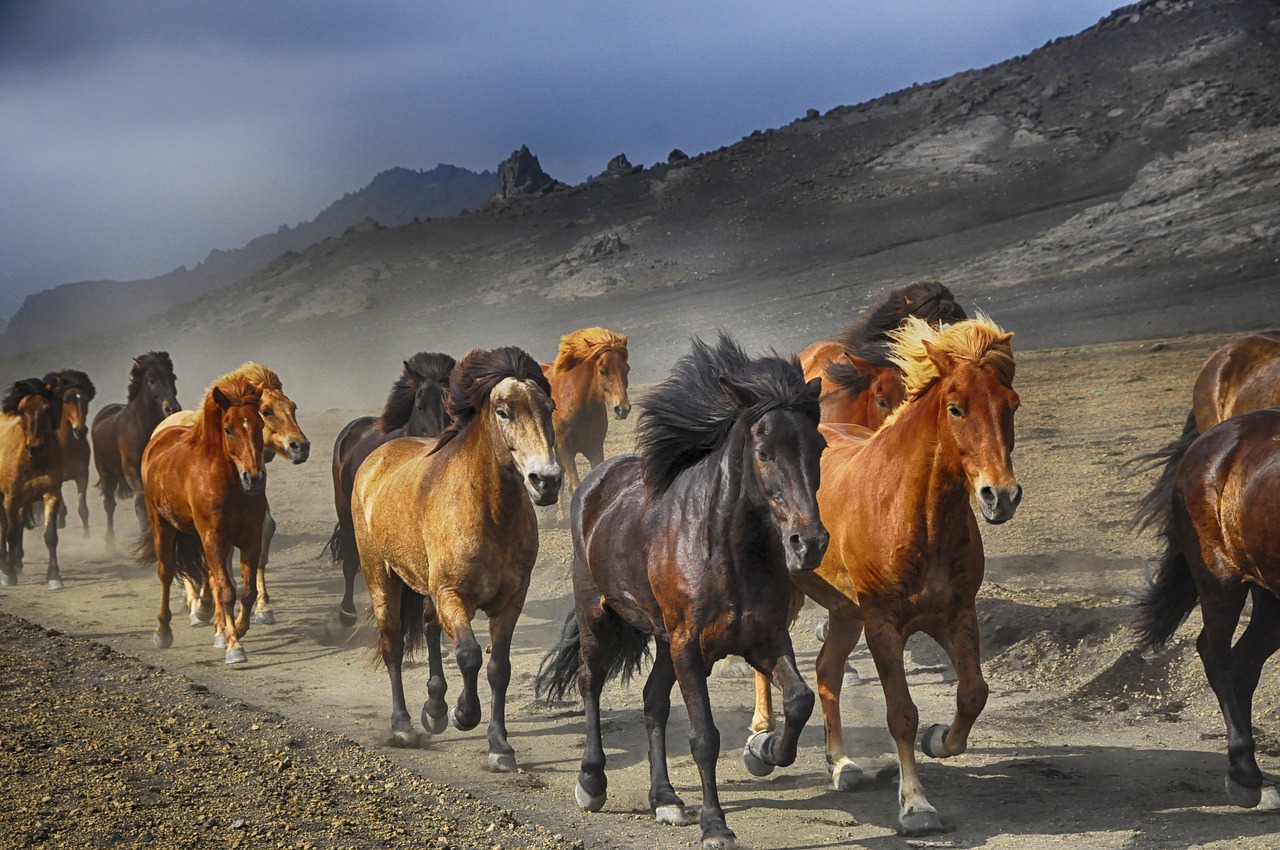 The Benefits to be Found When Purchasing from Prime Stables
Our clients are always delighted to note the benefits that come with the ordering and installation of one of our bespoke garden rooms. In turn, we are also delighted to be able to share and explain these benefits to those who are thinking of having a new wooden garden building of any variety placed somewhere on their property:
We will work with you through every step of the process, from assisting you in choosing your very own insulated garden room, to carrying out the installation work and advising you on aftercare. Our service is fully comprehensive, ensuring that your new space remains just the way you like it every day of the year.
All of our timber comes sustainably sourced, and will be meticulously graded and checked for full structural integrity before it is used in our work.
Every garden room we provide is crafted by a team of dedicated, highly trained and fully qualified carpenters and builders.
Our in-house CAD team will be happy to assist you with architectural drawings for any planning applications you need.
Our supply, delivery and installation services extend across the whole of the UK, so we will bring your new garden room to you, no matter where you are.
With over 20 years of experience in this industry, we are proud to say that we have practiced and perfected our skills in order to provide every client with the bespoke garden room that matches their specifications and exceeds their expectations. We even do this at a price which best suits your budget, and you will never have to worry about hidden charges when purchasing from us.
What our Clients are saying…
Of course, it is easy for us to promote our garages and workshops by saying how great they are, but what you need is real proof. That's why we provide real testimonials from real clients, so you can get an idea of what people are saying about us. If you are impressed by what you see, why not get in touch today?
I just wanted to write and tell you how well the field shelter went up last Friday here at Hayling Island. Both Ben and Ryan are lovely lads, very efficient and professional, a joy to have on the yard. We are all very impressed with the workmanship that has gone into the build before it arrived on site and Nigel, my little pony who cannot be stabled absolutely loves it. He is no longer wading through fetlock deep muddy sticky ground. A big thank you, please from all of us to all of you.
I instructed Sarah (MD) to visit my property to discuss the replacement of a Tractor shed, two stables and a tack room. Sarah's ideas and plans for the new proposed building were excellent and very clearly understood. This would become even more apparent when I received the professionally drawn up planned details just a few days later. Nothing was left to chance and all minor details of the building were fully explained to me before I agreed our deal...I would thoroughly recommend Prime Stables for an excellent new building that is both practical and functional which has more than surpassed my greatest expectations.
Hi Kim. I would just like to thank you, Paul, John Ross and Krzysztof for my lovely shelters, I couldn't think of a better company to go to. You have all been so efficient and helpful. The horses like the shelters so much that they refuse to go in them as they might spoil them! We will have to think of something else to build now just so we can use you again. Bestest wishes, Kate.
Dear Sarah. Your chaps did a great job on the stables and we are 100% happy with the installers and the stables. Many thanks and I will recommend you if anyone asks me about the stables. All the best. Adam.
Dear Nikkie. Just a quick note to let you know how delighted we are with the new field shelter and tack room that was delivered today. We are extremely impressed with the quality of the product and the whole process of choosing and purchasing through Prime Stables was very easy due to the care and professionalism you showed. We cannot thank you enough, and will definitely be in touch when we are ready to build our new stables. Thanks again. Jessie (and all the alpacas).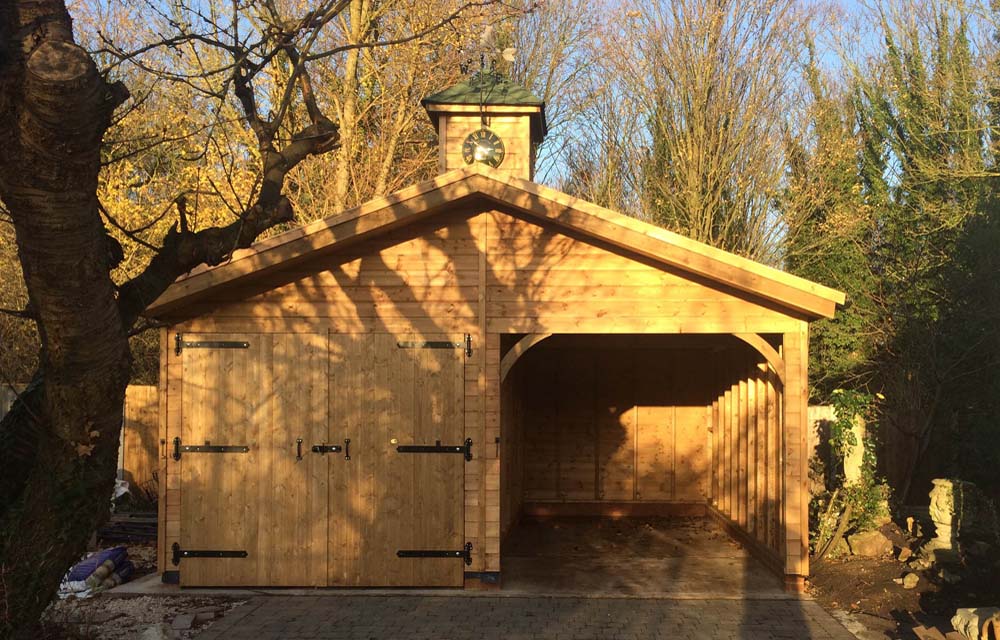 Bask in Summer and Curl Up in Winter With an Insulated Garden Room
If you have been searching for somewhere in your home or on your property to create a warm, quiet new space that you can use throughout the year, then a fully insulated garden room installation might just provide the answer.
Browse through the pictures we have on display here (each is a bespoke design ordered by a client), and take inspiration for your very own unique space that will allow you to work or play in the great outdoors, no matter the weather.
Once your garden room has been purchased, we will send you an aftercare package that tells you all you need to know about keeping your new purchase in pristine condition for many years to come. We love what we do and we want you to be able to enjoy any new outdoor space for as long as possible, so contact our team today and place an order for the fully insulated installation you know will suit your needs perfectly.
Need some more information on prices? Speak to us today!