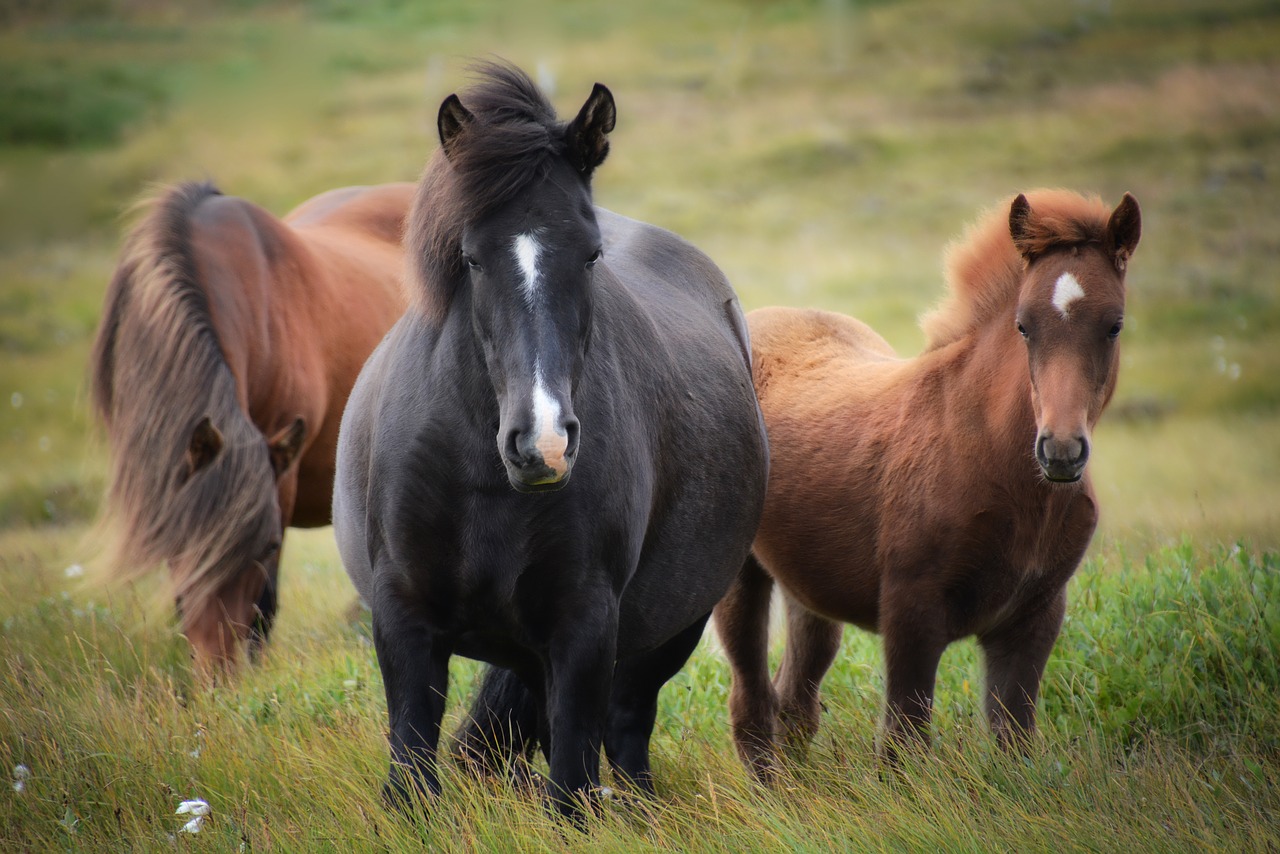 Bespoke Garden Buildings in Hampshire | 20 Years' Experience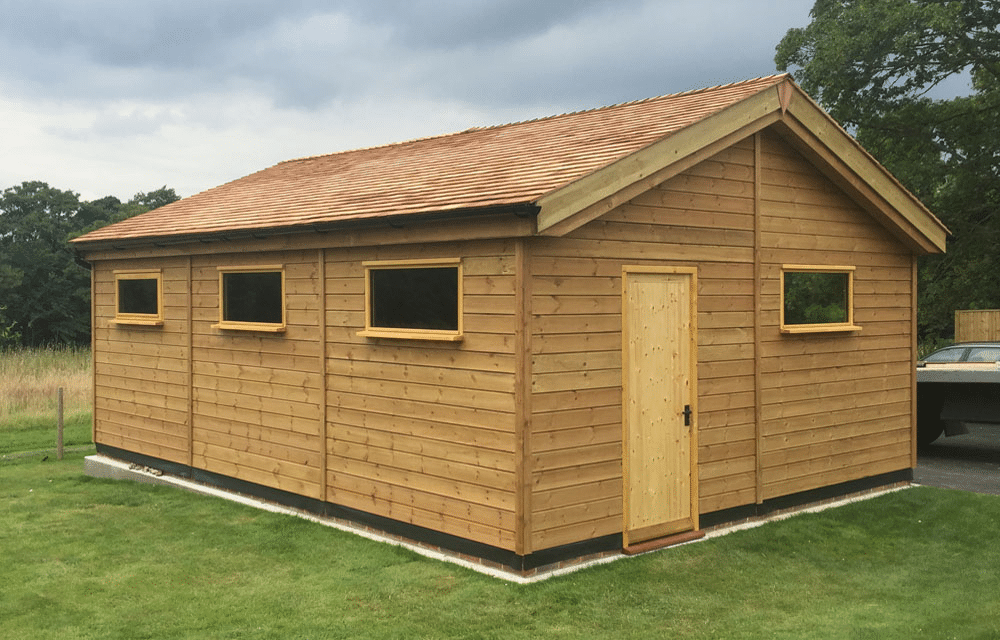 Luxury Garden Building
Prime Stables designs, builds and installs a wide range of garden buildings to enhance your garden throughout the seasons. Each garden building is constructed by our experienced builders to ensure a stunning and lasting timber building and we even provide bespoke buildings if required.
We are a family-run business that understands the importance of clear client communication, which is why we work with you to ensure all your design and installation requirements are met. This allows us to provide a stunning building that aligns with your exact requirements.
After your garden building in Hampshire has been installed, we will still be on-hand to provide aftercare advice and support, should you need it.
From Avon to Abbotts Ann, we can deliver and install garden buildings across Hampshire.
Contact our team today to transform your garden so that you can enjoy the warmer months in luxury.
What Makes Us Different?
Prime Stables is a family-run company that understands the importance of putting the client first. We work with every client to ensure their garden building is designed, built and installed to their exact requirements. From start to finish, you will have the first and final say and our team will work hard to ensure your requirements are met.
Whether you're looking for a traditional garden building to experiment with or a bespoke home office, we have the experience and technology to make it happen. After installation, we will remain on-hand to provide exceptional aftercare advice and support to ensure your building thrives through the seasons.
Our Luxury Garden Building Types in Hampshire
Prime Stables provides five different types of garden buildings in Hampshire. Each building comes with their own unique benefits depending on their intended use. Below, we have outlined the use of each building to help you select which garden building will best suit your needs this summer.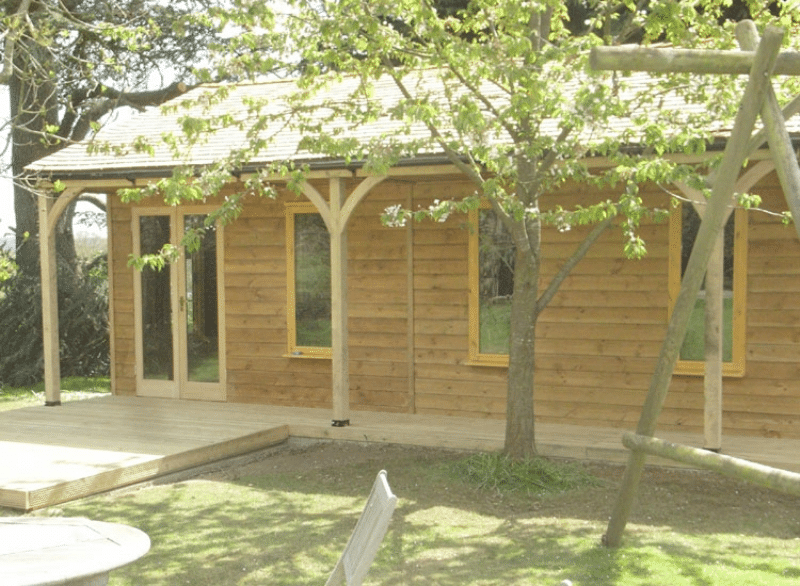 Traditional Garden Building
The beauty of our traditional garden buildings lies in their versatility. Clients are encouraged to work with our builders to understand the use of the building and how you would like it to function. For example, if you want your garden building to allow plenty of light inside, we can help you select windows that and doors that compliment this design style.
Whether you're looking to create a space to work, relax or store garden furniture and items, our designers and builders are on-hand to help. See our garden buildings here.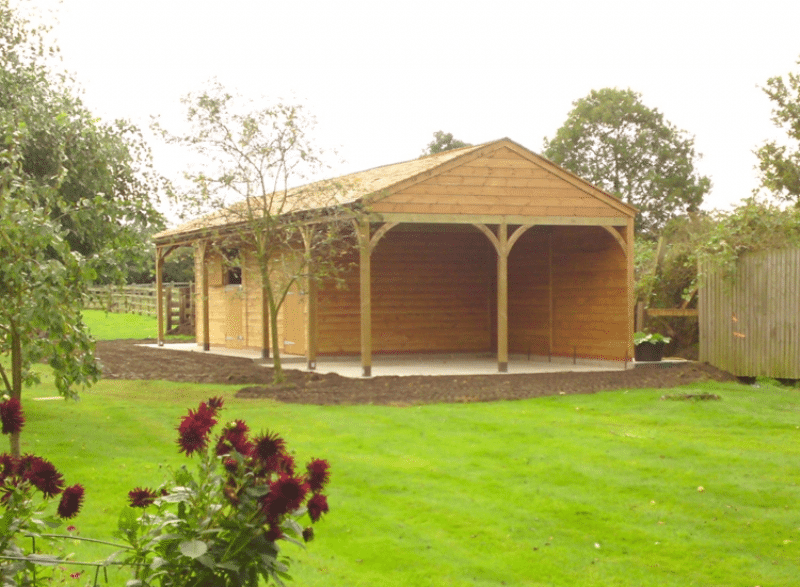 Garden Building with Open Area
If you're looking to extend your garden building with an open space, why not consider our open area garden building? This simple addition allows you the luxury of outdoor cooking, log storage or room for outdoor garden furniture – or a hot tub. This building type is also ideal for summer houses.
Learn more about the benefits of our open area garden buildings in Hampshire and place your purchase today.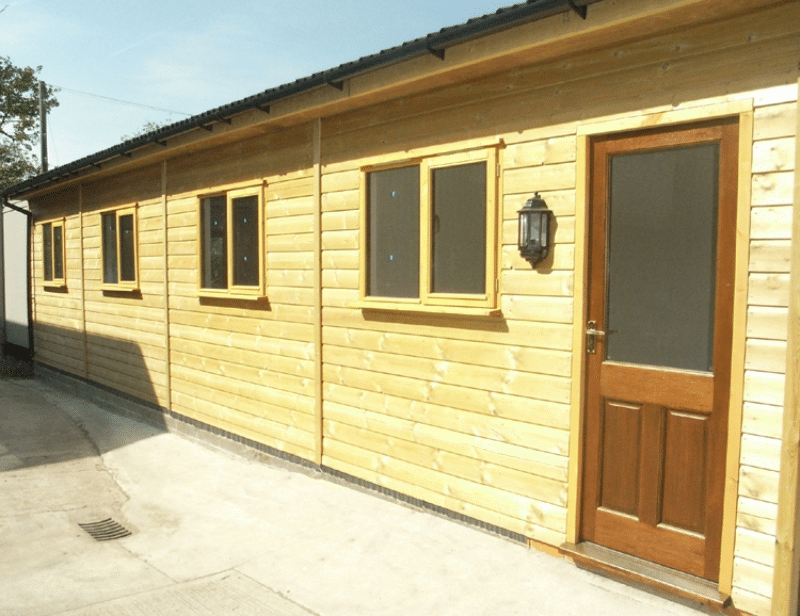 Office Building
Designed for multiple people, our wooden office buildings in Hampshire are the perfect solution to working from home. Each office building is designed to your requirements, taking into account desk and chair space through to break-out spaces.
Take a look at our premium timber office buildings in Hampshire.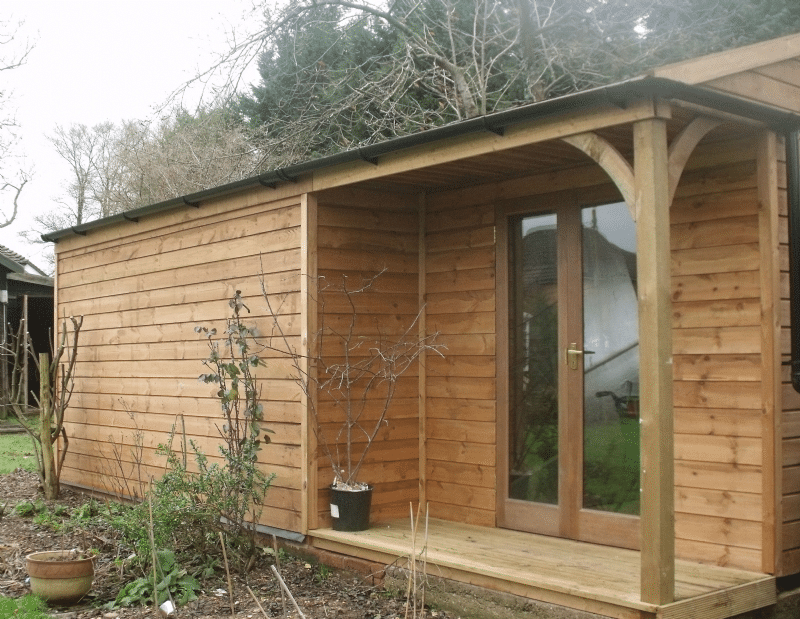 Garden Room and Store
The ultimate in versatility, our garden room and storage buildings are ideal for storing everything from garden furniture to lawn care equipment and tools. Our garden storage rooms allow you to move all your items out of your home, freeing up space. Or, your garden shed needs replacing and you're looking for a more professional, durable and aesthetically-pleasing alternative.
Regardless of your reason for selecting a timber garden storage room, we can help.
Purchase your garden room and store buildings today form Prime Stables.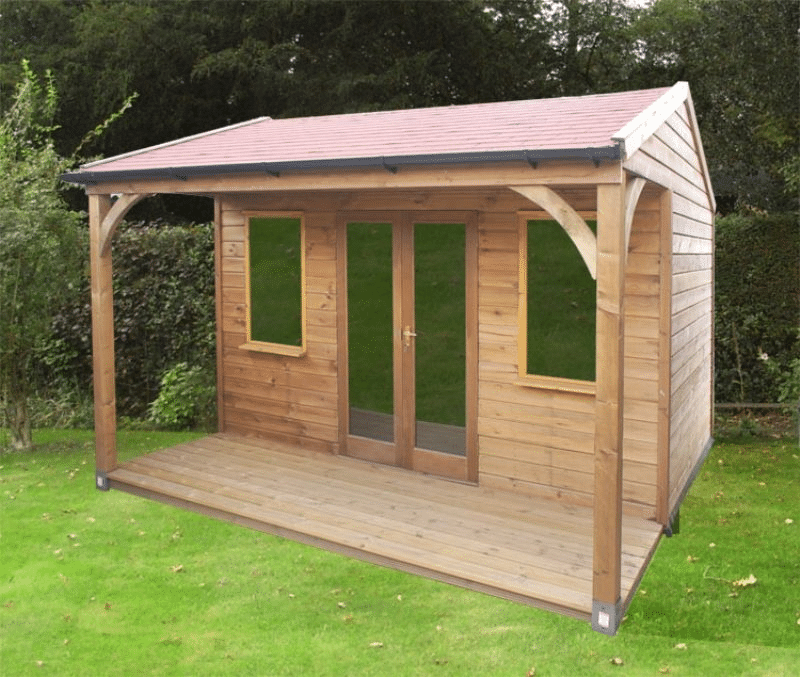 Home Office
For solitary working in your garden, our garden office buildings in Hampshire are the perfect, quaint addition to help boost your productivity. You may not enjoy working from home and are looking for a space to resort to during working hours, and our buildings provide the perfect solution.
The biggest benefit? You can customise your office space to your exact needs, you may choose to select large windows and doors to allow plenty of light, or adopt a more open design if you're an artist or creative.
Transform your work life with one of our personal home offices, designed by experts.
One of the major benefits that comes with purchasing a garden building from Prime Stables is the level of customisation. We understand that some clients may require bespoke builds or the chance to add optional extras. For more information on this, please select one of the above garden buildings and contact us with your bespoke requirements.

Contact Us Today
Get in touch today to discuss your requirements. Don't see a design that you like? Don't worry; we are proud to offer bespoke design services to all of our clients. So, if you have any specific requirements in mind, please do not hesitate to get in touch. We would be more than happy to advise you and answer your questions. Call us today!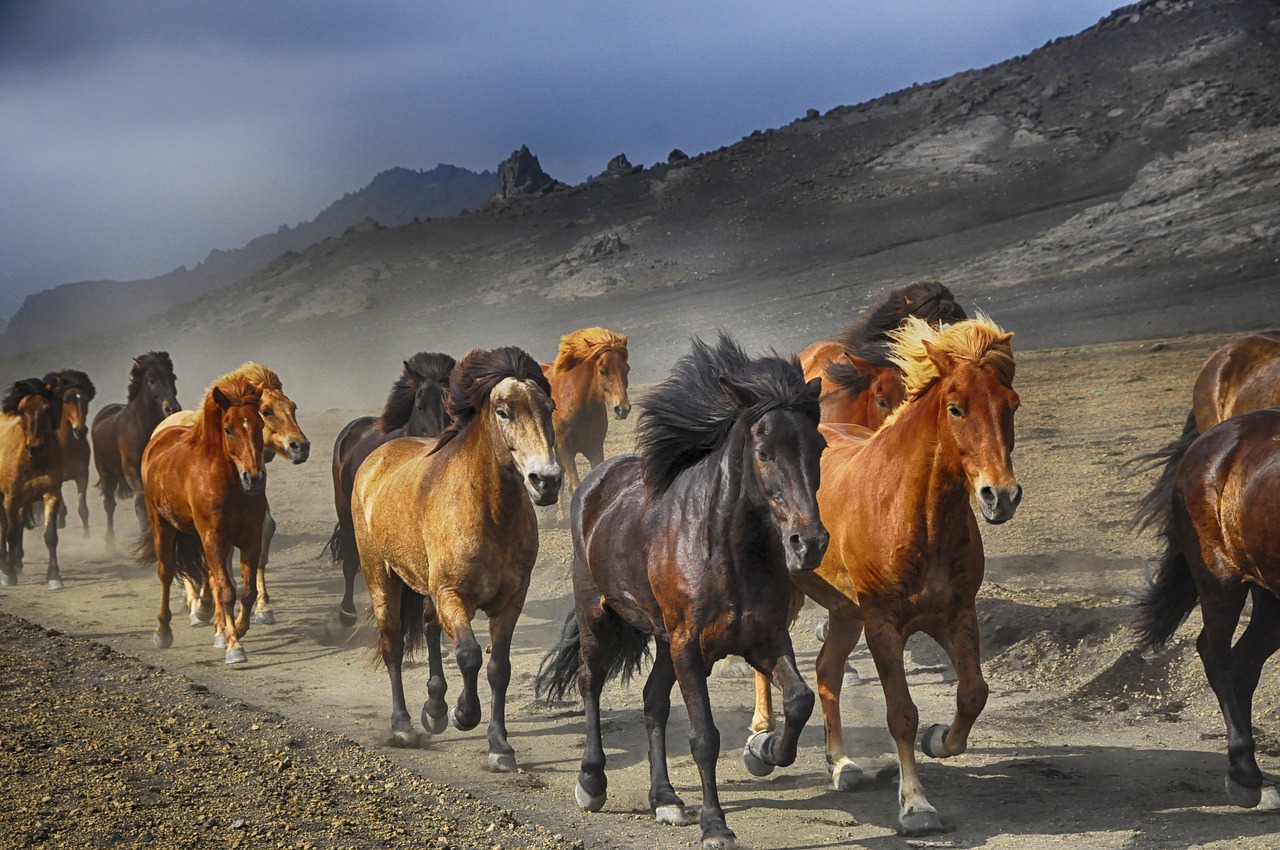 The Benefits of Choosing Our Garden Buildings
Additional benefits of choosing Prime Stables to design and install your garden building in Hampshire include:
A fully comprehensive service – from start to finish, our team will help you select a garden building, advise on building requirements and ensure it's delivered on time and installed in-line with your demands.
We have an in-house CAD team who can assist you with architectural drawings for your planning applications.
We only use the highest quality timber when constructing your Hampshire garden building. This is to ensure your garden building thrives throughout the seasons and retains its timeless appearance.
All garden buildings are designed by our in-house team, which means you're buying from trusted professionals who have over 20 years' experience in the construction industry.
What our Clients are saying…
I just wanted to write and tell you how well the field shelter went up last Friday here at Hayling Island. Both Ben and Ryan are lovely lads, very efficient and professional, a joy to have on the yard. We are all very impressed with the workmanship that has gone into the build before it arrived on site and Nigel, my little pony who cannot be stabled absolutely loves it. He is no longer wading through fetlock deep muddy sticky ground. A big thank you, please from all of us to all of you.
I instructed Sarah (MD) to visit my property to discuss the replacement of a Tractor shed, two stables and a tack room. Sarah's ideas and plans for the new proposed building were excellent and very clearly understood. This would become even more apparent when I received the professionally drawn up planned details just a few days later. Nothing was left to chance and all minor details of the building were fully explained to me before I agreed our deal...I would thoroughly recommend Prime Stables for an excellent new building that is both practical and functional which has more than surpassed my greatest expectations.
Hi Kim. I would just like to thank you, Paul, John Ross and Krzysztof for my lovely shelters, I couldn't think of a better company to go to. You have all been so efficient and helpful. The horses like the shelters so much that they refuse to go in them as they might spoil them! We will have to think of something else to build now just so we can use you again. Bestest wishes, Kate.
Dear Sarah. Your chaps did a great job on the stables and we are 100% happy with the installers and the stables. Many thanks and I will recommend you if anyone asks me about the stables. All the best. Adam.
Dear Nikkie. Just a quick note to let you know how delighted we are with the new field shelter and tack room that was delivered today. We are extremely impressed with the quality of the product and the whole process of choosing and purchasing through Prime Stables was very easy due to the care and professionalism you showed. We cannot thank you enough, and will definitely be in touch when we are ready to build our new stables. Thanks again. Jessie (and all the alpacas).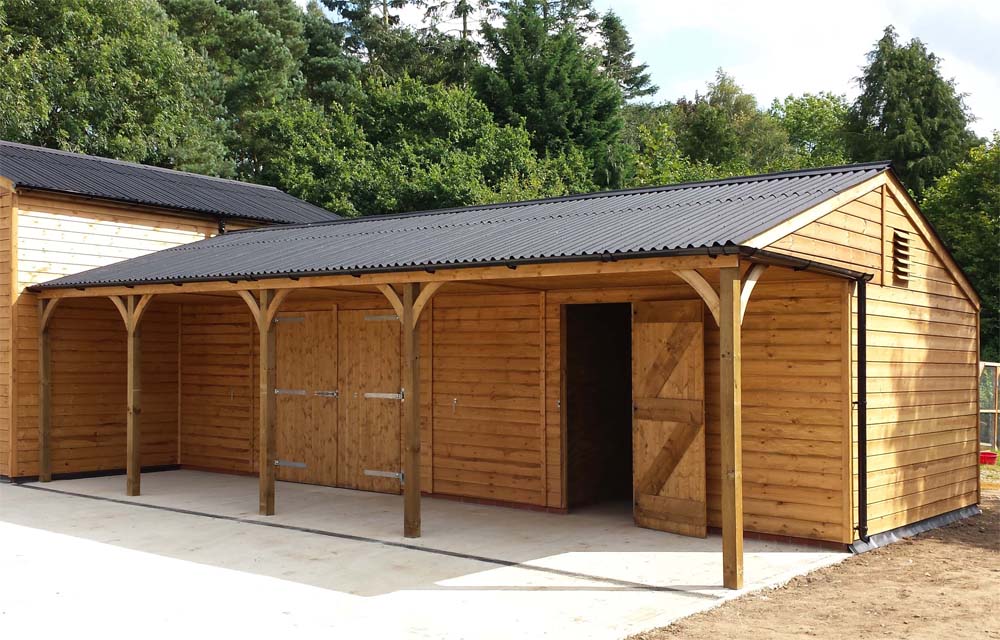 Call Us Today to Discuss Your Requirements
If you would like to know more about our garden buildings, such as prices, delivery and installation, please do not hesitate to contact our team for further information. Alternatively, if you would like help on choosing or designing your garden building in Hampshire, our team would be more than happy to help.
To purchase your garden building in Hampshire, or to learn more about our range of buildings, please contact our team via email or by calling our team.
Need some more information on prices? Speak to us today!