Click Here To Request Prices
Bespoke Adaptable Garden Rooms with Storage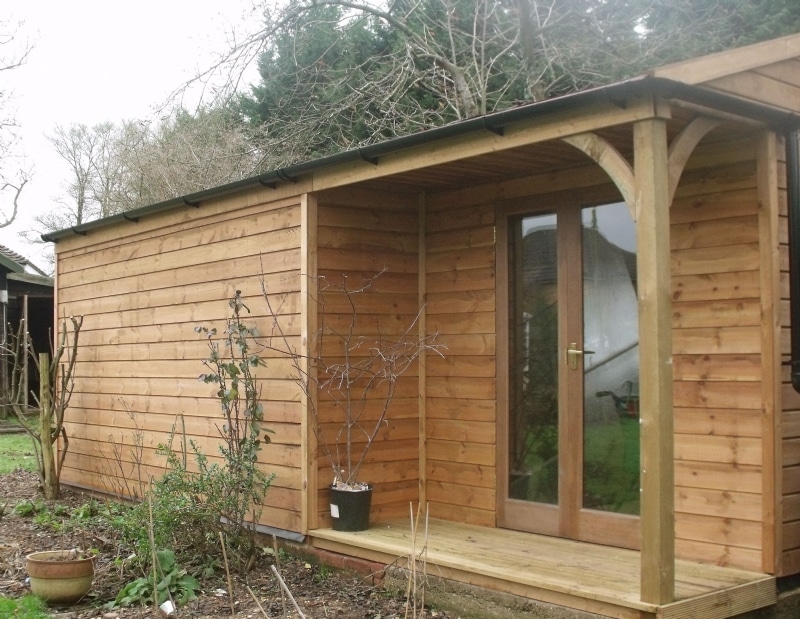 Here at Prime Stables, we offer multiple different types of exterior garden buildings to suit your needs. Whether you need a new wooden garden storage shed, a large garden office with storage, or even a combination garden room with side storage, our experts can build high-quality garden buildings; designed exactly how you want them. 
One of the more popular functions for our external buildings is a garden room with shed storage, so you can enjoy the best of both worlds, having somewhere to put the pieces that no longer belong in your house – as well as somewhere to relax. You can even implement an office into your garden building, allowing you to work from home with more ease than ever before.
Our expert team of garden building constructors have over 20 years of industry experience. They can quickly and efficiently build your new garden room with storage to your exact specifications with ease – and they'll be making sure it's right every step of the way. All you need to do is supply the design of the roof, floor, doors and windows, or explain your ideas to our team of experts at Prime Stables, and we can offer a huge range of solutions to fit your designs.
To begin discussing your requirements, and receive a free quote on your bespoke garden storage project, contact us today.
What Types of Garden Room with Storage can we Provide?
Looking to build a new exterior gym with double glazed windows and extra storage? A home office with an additional storage area to get your work done in peace and quiet? One of our new pressure treated log cabins, or summerhouses with a side shed attached which can withstand harsh weather, perhaps? Whatever outdoor space with a storage room you require, just supply your design or explain your ideas to our team of experts at Prime Stables, and we can offer a huge range of solutions to your needs.
Garden Rooms with Storage Areas Built to Your Requirements
Have you been looking for a space to store items that you just cannot fit into your house because they don't suit your decor, or is it no longer the season to have an inflatable Father Christmas on your porch? Our garden sheds may be the best option for you.
Our garden outbuildings can be made to any size that you need, so you can store any items that aren't wanted in the house safely and securely. Garden furniture can be easily stored away for the winter or rainy days, fresh cut logs can be left to dry for your burner in the winter, a family's amount of bikes for those summer excursions, our garden storage buildings can provide the solution to your storage problems.
Our premium garden sheds and storage buildings are built combined with high-quality oak designs and practicality in mind, so you know that your shed doesn't have to be an ugly eyesore in your garden; especially when it's designed by our specialists at Prime Stables.
To store your unwanted seasonal pieces from your home and garden with ease with one of our secure garden storage rooms, book your free consultation today, through our online form.
Corner Garden Rooms with Storage, Used for Offices
Are you a fresh startup, or newly working from home? Our garden rooms with storage are big enough to house an office for a small team. If you need a home office, but away from home by a few metres, we can help you escape the interruptions of daily home life and build a bespoke private and professional space where you and your small team can work freely – and uninterrupted. These home offices also come equipped with side storage, so you can ensure any important paperwork or equipment that is less frequently used is stored away safely and securely for when you next need anything.
Our team of experts can provide the perfect base to any operations for your business, bespoke to fit your needs. Your garden office can be designed with you, and your team, in mind; meeting almost any size required to ensure you and your staff can fit and work efficiently in this comfortable space.
Our garden offices with extra storage can provide a unique space unlike any office you'll see in a city because it's completely tailored to your needs. These oak buildings used for garden offices provide great insulation alongside gorgeous aesthetics – indoors and out.
To get your unique space that is bespoke to fit the needs of you and your team – book your free consultation today, by calling our contact number.
Private Garden Buildings with Additional Storage
For those who want to study, work, or create in peace within their own headspace, and need any additional storage for any of your hobbies, this option may be for you. These smaller, private, garden rooms are perfect for any sort of relaxed working or creating – so you know you can get your work done or crafts completed without interruptions. Transform this room into an art studio, a study nook, a small office, or a workshop; these garden buildings can be transformed and fully customised to create a unique and cosy workspace. They can also have additional storage areas added in line with your plans, so you don't have to keep running backwards and forwards to the house or garage – everything you need will be right there for you.
For whatever needs you have, whether you're looking to escape the noise at home or simply need some extra space to store your crafting materials, we can design a bespoke private space that works perfectly for your needs. 
What you Need to Know About Planning Permission
We know that having any sort of external building put on to your land can lead to worries about getting on the wrong side of the law when it comes to the rules and regulations of planning permission.
With our garden buildings, you will not need planning permission in most cases due to our bespoke rooms often being less than 30 square metres. While we are able to provide garden buildings of any size, the higher and bigger you go will end up putting you in the area of needing planning permission.
If you think your new external building with additional storage will land you in hot water, here are a few tick boxes to check whether or not you will need to seek permission for any permitted developments from the government.
To avoid planning permission, you must:
Ensure that the floor area of the garden room is no more than 15 square metres
The garden room must be two metres or more away from the boundary
The room must not exceed two meters from the ground up
Your garden room must not be closer to the road than your actual house
For additional, and more detailed, information about the UK government's rules on planning permission, please visit their dedicated page on planning permission.
Contact us Today
If you would like an expertly crafted, bespoke, garden room with storage that is tailored to your specifications, please contact our team today. Our team of experts have worked in this industry for over 20 years, and we will work with you throughout the project to ensure that your new garden building is perfect for you. If you don't see an option above that suits your needs, still contact us – we have the perfect solution for you.
What Our Clients Say About Us
" " Dear Sarah l am really pleased with it and have already given your details to someone who stopped and asked me about it. I can't fault the lads who put it up. Best wishes, Pam


" " Dear Sarah. I would like to thank you all for such quality service. From my first contact with Natasha and Tobias to the shelter being delivered and erected by Mark and (I think John)? They were all very helpful and friendly. We are very pleased with shelter as are the donkeys and Shetland's who now can get out of the weather. I have already passed on your details to a friend who saw it and was impressed, so hopefully she will be contacting you soon. Wishing you a very Happy New Year. Kind regards.

" " Dear Sarah and Natasha, Just to let you know that our horses are now as pleased with the beautiful mobile shelter from Prime Stables as we are – it took them a little while to get used to it especially as the sweet chestnut tree behind it is currently bombing the roof with chestnuts! Thank you all, including the guys who built it and put it up for us. With best wishes, Laria

" " Dear Sarah. The shelter is being much appreciated by the alpacas and me too when it`s pouring with rain! I said to the guys that I would take some photos of the shelter when the weather is better so will do so when suitable. I don`t do Facebook so can`t respond to your request in that way but thank you for a very nice shelter which looks good and robust and please thank `your boys` again for their work in erecting it and hope they got back safely. I would certainly recommend you to anyone who needed a shelter/stable. With best wishes, Katie

" " Dear Sarah, Thank you very much for another fabulous field shelter. My cows love them! Your installation teams have been brilliant on each visit. Kind regards Fizz
See our Testimonials

Need some assistance?
CLICK HERE