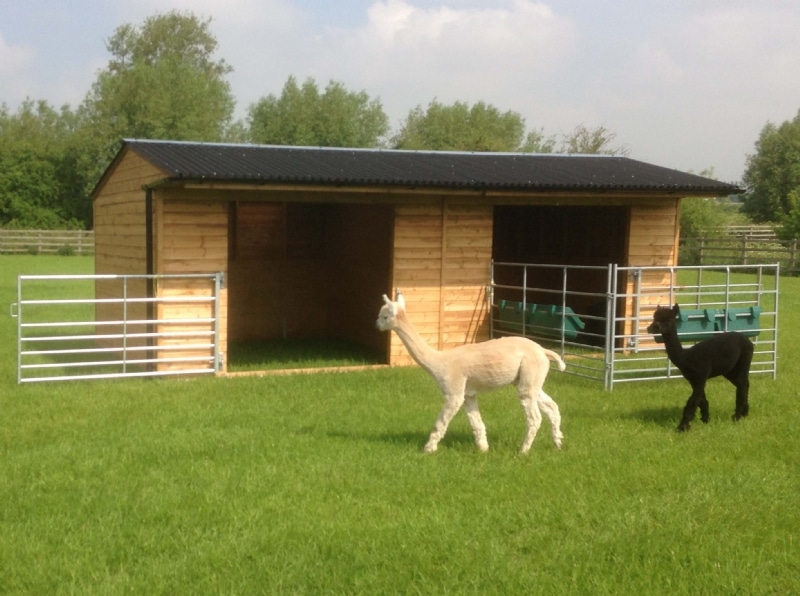 ALPACA MOBILE FIELD SHELTERS
At Prime Stables, we are delighted to offer a large selection of expertly crafted and beautifully finished alpaca shelters for clients based across the country. With over 20 years of experience in providing accommodation that animals will love, you may rest assured that any shelter design we make for your alpacas will offer everything they need and everything you could want them to have.
Explore more from this range
Mobile Field Shelter Specification (Towing Frame)
Shiplap Cladding
Top grade redwood shiplap cladding 16mm x 150mm, fixed with 50mm sheradised ring shank nails.
Framework
The frameworks are manufactured with kiln dried timber, 47mm x 75mm. All timber is regularised and strength graded for structural use to C16-C24.
Kickboarding
All stables are kickboarded as standard to a height of 1.2m high with exterior grade 12mm WISA Spruce plywood – multiple 5 layered, for structural integrity.
Roof
Black Onduline roof with galvanised ridge. Also available in green, brown or red. Standard roof pitch is 15 degrees. Purlins 100mm x 47mm, 125mm x 47mm, 100mm x 100mm. Fitted to Onduline specification.
Guttering
100mm half round black guttering with 50mm round downpipes are fitted as standard to the front of all buildings. Back guttering is available.
Towing Frame
Steel towing frame 100mm x 50mm box shape. Towing points at both ends, includes heavy duty chain.
Preservative
Buildings are treated with an animal friendly preservative product to a golden brown finish before leaving our workshop.
Other Details
All buildings are 2.2m to the eaves and approximately 2.9m to the ridge. Overhang at 0.9m deep, supplied unlined (if applicable). All internal roof trusses are open to aid ventilation except when sited next to a tack/feed room. In this instance they are fully boarded to ensure security is maintained. Tack rooms are lined to eaves with exterior grade 9mm Spruce plywood.

Contact Us Today
Get in touch today to discuss your requirements. Don't see a design that you like? Don't worry; we are proud to offer bespoke design services to all of our clients. So, if you have any specific requirements in mind, please do not hesitate to get in touch. We would be more than happy to advise you and answer your questions. Call us today!