Over the past few years, the UK has seen record numbers of horses having to be rehomed due to poor care, stabling, and management. Horse livery yards are one particular way that this problem can be reduced and eventually eradicated, as they can help to provide for the needs of horses across the country. But what exactly is a horse livery? What do they provide for an animal, and how much do they cost to use?
If you are thinking of buying a horse, or even already own or keep horses and need to consider all your options for stabling, read on to learn more. You may just find the ideal housing solution for your favourite creature companion!
What is a Horse Livery?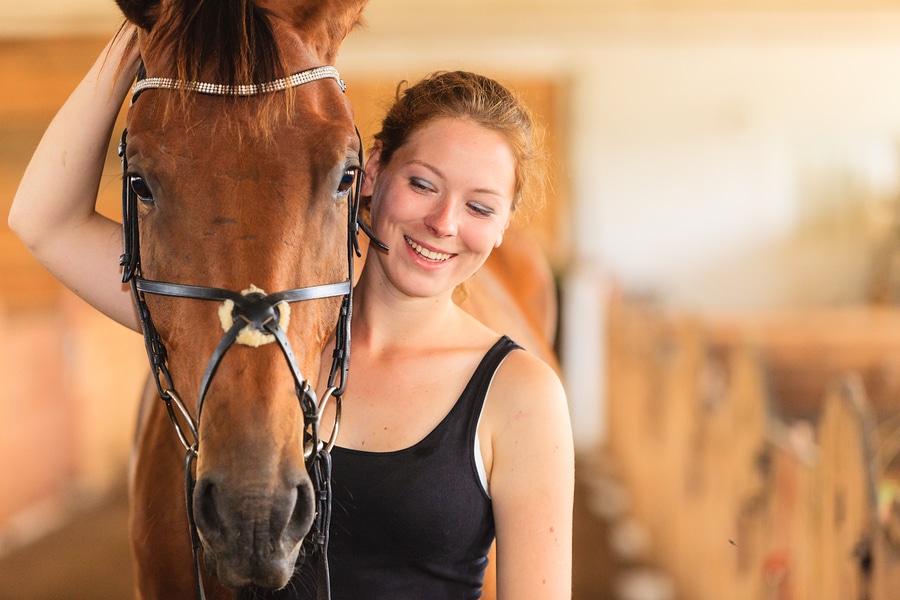 A horse livery may also commonly be known as a livery yard, a livery stable, or a boarding stable. They are privately owned stables that have been opened up to horse owners as a place to keep their animal companions, for either a weekly or monthly boarding fee. Most will offer grazing paddocks, fresh water, and stabling as standard for any horse or pony kept there, but others may also offer additional facilities.
Amenities that some particular livery yards will offer include:
A ménage for schooling
Built-in cross-country courses
Horse walkers
Segregated grazing options
Many livery yards will also provide hay and feed for stablemates at an additional cost.
The term "livery" in relation to horses, ponies, and stabling is derived from a now-obsolete usage from 1705, where the word meant "provender for horses". The word itself comes from the French word livrée, which means "dispensed" or "handed over".
Livery Yard Types in the UK
Horse livery yards vary greatly in terms of size and function, and what you and your horse will get in exchange for boarding fees will be dependent on the type of livery you choose. The types of livery yard you are likely to come across in the UK have been listed below for your convenience: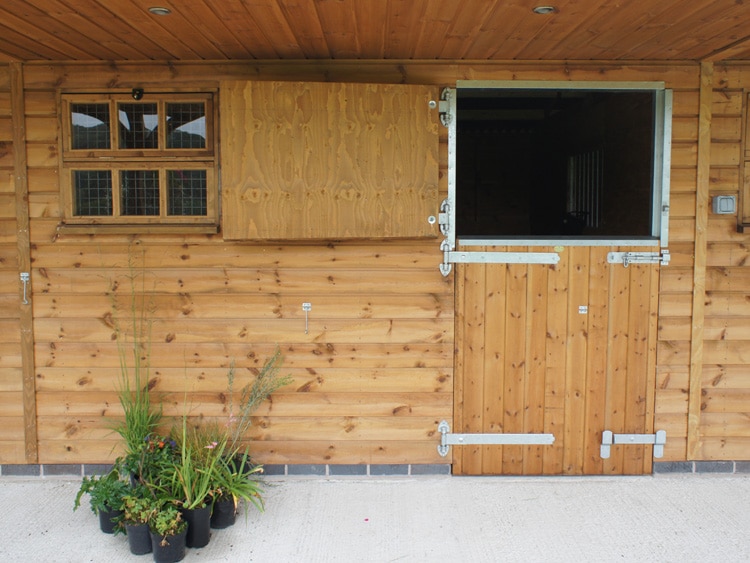 Full Livery
This type of livery offers a fully managed yard, and horse owners will pay a premium for all their horse's needs to be met. This means that the livery yard will provide bedding and handle feeding, grooming, mucking out, and exercising as necessary. The yard staff will be responsible for the welfare of the animals in their care at all times, and will also be in charge of bringing the horses in from the field daily.
Owners of horses stabled in a full livery will have access to their animals whenever they want and can visit. For this reason, it's particularly ideal for owners who are not able to care for a horse daily, owing to a busy schedule, but wish to make sure all of their horse's needs are met.
Part Livery
Part livery options offer horse owners more flexibility than full livery. In these instances, owners can request that certain aspects of their animal's daily care (particularly feeding, watering, and mucking out) be carried out by the yard staff. Normally, this will mean that grooming and exercising are performed by the owner.
This is another useful, practical stabling option for owners who have busy schedules and are unable to attend to their horses on a consistent routine. It also offers the benefit of an owner being able to establish a greater bond with their animal companion, as they will be able to maximise the amount of time they spend grooming or riding. Others will then take care of chores in the stable.
"Do It Yourself" or DIY Livery
DIY livery options are the most popular type of livery in the UK. In these arrangements, a horse owner will be provided with a stable for their horse to live in, but they will be expected to cover all other amenities and aspects of care themselves. Bedding and hay are often not included, either, meaning that the owner will either have to make a separate arrangement or purchase these from the stable itself. Some DIY stables will provide hay and bedding at a higher price.
Livery yards that fall under the category of "DIY" are often not managed or staffed, meaning that all responsibility for the wellbeing of a horse will fall to the owner. These stables are often more cost-effective but will work better for owners who can visit their horses twice daily and take care of all their needs daily.
Grass Livery
Grass livery options provide horse owners with a field that they can keep their horses in. Usually, this will be alongside other horses. The owner will also be responsible for all of their animal's daily care and feeding requirements.
Often, it will be necessary for an owner whose horse is in a grass livery option to check on their animal every day, even if they do not require feeding. This is because they may have to ensure they have not become injured and are not showing signs of suffering an illness.
Some grass livery yard options will have routine checks carried out by staff, though this will depend entirely on which yard an owner chooses.
Assisted DIY Livery
Most would term an assisted DIY livery option an "enhanced" version of a DIY stabling solution. In these livery yards, most of the work will still be managed by the horse's owner, but there will also be a livery manager or staff who may assist. Their help will usually revolve around putting feed in bins for the animals, or bringing in or turning them out on behalf of their owners.
Schooling or Breaking Livery
In these options, an owner's horse will be kept at livery, grass, or stabled and the livery staff will be responsible for the horse's daily care. These livery yards will also provide schooling, or training leading to backing, for horses in their care. This practice will usually take place on 5 or 6 days of the week.
Working Livery
Livery yards that operate as a riding school also offer a working livery. This is where the horse is kept at grass, stabled, or full livery, but a reduced rate is charged in exchange for use of the owner's horse during riding lessons at the livery yard.
How Much Does a Horse Livery Cost in the UK?
Livery costs in the UK will vary from business to business, and prices can have a significant range depending on what you would like from the site. You can also expect prices to increase depending on how much assistance you will need caring for your horse, and how many facilities you would like them to receive and to be able to enjoy. Because of this, you can generally anticipate higher prices from full livery yards and lower fees from DIY or grass livery yards.
Choosing the Right Livery Yard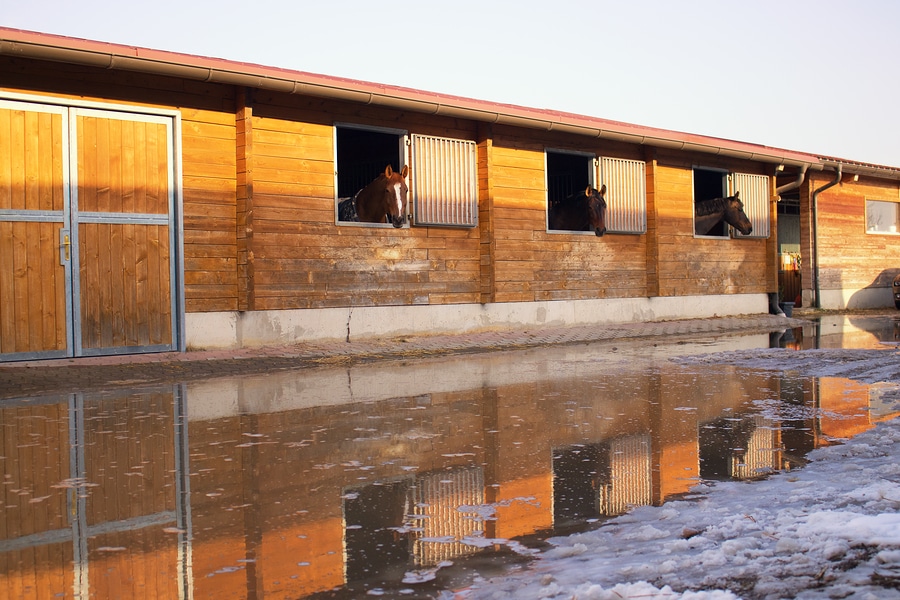 Picking out a livery yard for your horse is a decision that should always be made carefully. You should never compromise on your animal companion's basic needs, even if the option would seem more convenient for you in the long term. For instance, the closest yard to you may not be the most suitable option, but neither may an otherwise luxurious yard if it has an inadequate turn-out provision.
You must take time and consider each option in depth before deciding on livery for your horse. The British Horse Society operates a livery yard approval scheme for horse owners, which may give you a good starting point when narrowing down your list or even making a full decision on which livery will be best for your horse. However, this should not be the only measure by which you determine a new living space for them.
If you are able, you should also visit the yards that you feel would be most suitable for your animal's needs and that fall within your budget. This way, you will be able to ensure that the yard is as fitting for your horse as you have been hoping it would be. Arrangements should always be discussed with the proprietor of the yard so that you can be sure of this.
Expert Recommendations and Advice
Experts would always strongly recommend looking beyond first impressions when looking for the right livery yard. You should be able to see the horses when visiting, and they should appear happy, healthy, and relaxed. There should also be adequate stabling facilities and turn-out to suit the number of horses in the yard.
A livery yard does not have to look like the ultimate paradise for a horse, nor have every possible facility or amenity on offer. What they should always be, however, is safe, well-constructed, and suitably clean and maintained by those caring for the animals there.
If you would like or know you will need a few more indicators to decide on the most suitable livery yard for your animal or animals, there are certain features and elements you can look out for. These include the provision of good on-site security, a well-managed yard routine (with clear yard rules, worming programmes, and care arrangements), and a fair livery contract.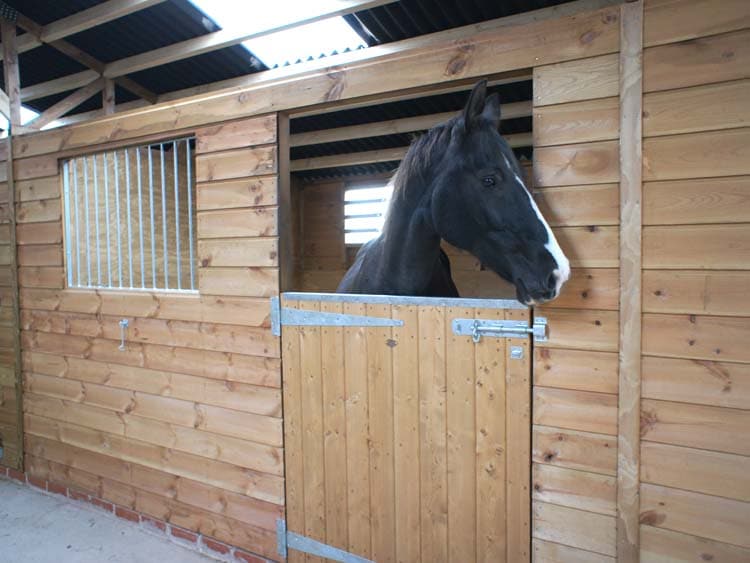 What are the Benefits of Stabling in a Horse Livery Yard?
As soon as you find the right livery yard stabling option for your horses or ponies, you will be afforded several benefits that you might not have considered otherwise. These benefits include:
Access to shared facilities (such as a ménage or indoor arena for schooling or training)
Assistance in caring and providing for your horse or horses (if this is required)
Companionship and socialisation for your horse or horses
Company if you intend to go riding and you do not wish to go alone
Extra security and vigilance in the livery yard, when compared to other properties
Building Your Own Livery or Stables
Whether you are intending to open your own livery yard, already own your own business but require expansion and renovation work, or are simply looking for the most affordable stabling options for all of your beloved animal companions, contact Prime Stables today. We will be glad to provide you with any number of beautiful, bespoke stable blocks and field shelters to give them the comfortable, secure, and long-lasting homes that they deserve.
We will also be fully prepared to answer any questions you may have about our work as soon as you get in touch. As a family-owned and operated firm, we pride ourselves on our dedication to our clients and their requirements, so you can always expect to learn what you need to know. You will also be guaranteed a stunning, masterfully crafted structure, made to your specifications and installed with the needs of your animals in mind.