Around 300 horses and ponies have to be rehomed each year in the UK as a result of poor care, housing, and management. Livery yards are reducing this problem significantly as they provide the care, security, and housing your horse needs for a comfortable and happy life. While most horse owners would prefer keeping their horse at home, unfortunately this is not always practical. Housing your horse in a livery yard provides everything your horse needs.
The Benefits of Horse Livery Yards in the UK
Access to shared facilities such as an indoor arena or manege
Companionship and socialisation for the horse
Extra security and vigilance
Assistance in caring for the horse, if required.
Livery Yard Types in the UK
Did you know that there is more than one type of livery yard? The great thing about this is you have a lot of options when it comes to choosing the best home for your horse. Below, we have listed the most common types of livery yards.
DIY Stabled Livery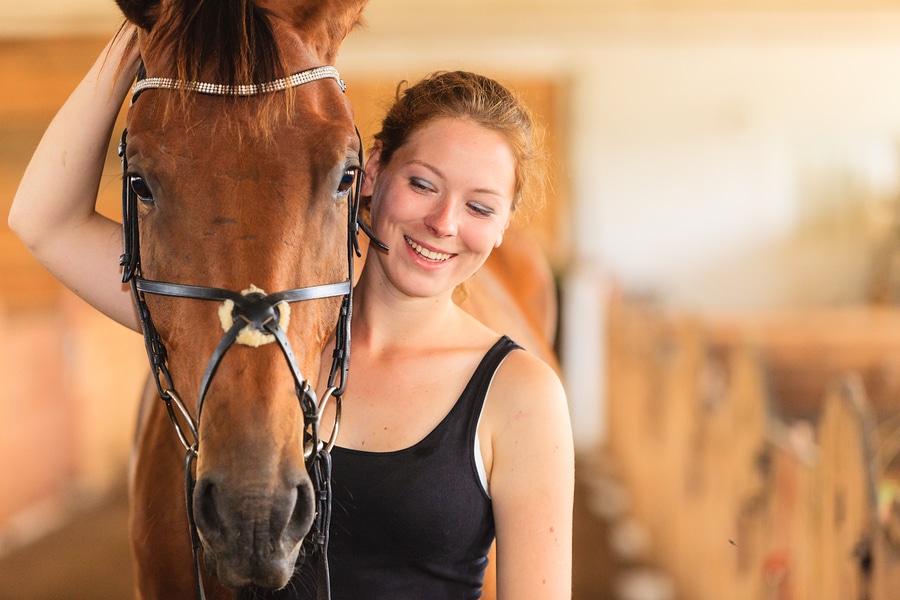 This type of livery provides the owner with a stable where they can keep their horse and a field to turn their horse out in during the day. Bedding and hay is not often included in DIY stabled livery, instead the horse owner must purchase these separately. DIY stable livery requires that the horse owner attend to their horse in the morning and in the evening of every day. So, if you can't commit to this, DIY stabled livery is probably not the solution for you.
Grass Livery Yards
A grass livery is a space that provides the owner with a field they can house their horse in, often with a number of other horses. Grass livery yards are a great way to socialise your horse with other horses. However, grass livery is when the owner is responsible for all the care and feeding of the horse on a daily basis and this type of livery also requires the horse owner to attend to the horse on a daily basis, even if no feeding is necessary.
Part Livery
Part livery is similar to DIY Stabled livery, except that the day-to-day care of the horse is shared by the owner, so the routine and care of your horse may vary. Some part livery yards will offer staff care during the week, with the horse owner expected to take the responsibility of the horse at weekends, while other part livery yards may provide staff in the mornings, with the owner expected to take over in the evenings. It is basically up to you to carry out the research and find a part livery yard with a care structure that works for you.
Full Livery
Full livery provides the horse owner with a stable to house their horse, a field for turning their horse out in the day, and it also includes bedding, hay, and feed. Full livery also provides livery staff who are responsible for the daily care of your horse, including mucking out, turning out the horse, feeding, and bringing the horse into the stable on a daily basis.
Some livery yards also include exercising of the horse within their service, however this does depend on the livery yard. Full livery is ideal for horse owners who have a busy schedule and cannot attend to the needs of their horses on a daily basis.
Schooling Livery
Schooling livery involves housing your horse at livery, whether grass or stabled, and having the livery staff take full responsibility for the daily care of the horse. Schooling livery also includes schooling or training of the horse, usually for 5-6 days of the week.
Working Livery
Livery yards that operate as a riding school also offer a working livery. This is where the horse is kept at grass, stabled, or full livery, but a reduced rate is charged in exchange for use of the owner's horse during riding lessons at the livery yard.
How to Choose the Right Horse Livery Yard
Deciding on the right horse livery yard should be considered carefully. You should never compromise on the basic needs of your horse just to satisfy your longing for convenience. It is important to take the time to visit prospective stabling yards and to ensure that the yard and conditions are suitable for your horse. Be sure to look beyond your first impressions.
The most important thing is that your horse should look happy and relaxed, there should be adequate stabling facilities, and plenty of turn-out to suit the number of horses at the yard. Although livery yards do not need to be "gold-plated", they should be well constructed, suitable maintained, and safe and secure.
We Install Stables for Livery Yards
Do you own a livery yard that you need updated with quality timber stables? At Prime Stables, we manufacture and install a huge range of timber horse stables in livery yards around the UK. A family-run company passionate about caring for animals, we are dedicated to providing secure, comfortable, and long-lasting homes for your animals. If you would like to find out more, browse our range here or give us a call. We also cater to bespoke stabling requirements!