Here at Prime Stables, we take pride in helping our clients create and finish their ideal outdoor spaces. By building a garden room for them, to their exact requirements and specifications, we are able to make their ideas a reality and perfect their use. Below, we've set out some advice and information on preparing garden room designs for our clients, and have offered a selection of ideas for uses if you have not yet decided what you will do with your room once it has been installed.
Read on to learn more, or contact us today if you already know what you need and would like to complete your outdoor space.
Preparing Your Garden Room Design Ideas
When you choose to use our service, you will be delighted to discover that each of our timber garden room designs is made to the exact specifications and requirements of each homeowner. As such, every garden room we build is made bespoke, guaranteeing versatility in use and a product that will always suit the ideas you have in mind.
It would be an inconvenience to buy a room for us to build, only to find that the size is incorrect. That is why, before settling on a design, you should also ensure the garden space you have is large enough to accommodate the plans you wish to put into action. For instance, if you would like to have a large garden room in order to comfortably fit all your friends and relatives when hosting a summer barbecue, you may wish to check and ensure that the dimensions of your current outdoor space will permit this.
Alternatively, you may not have to worry at all if you only intend to use your space as a sheltered seating area and reading nook for the warm summer months, and only require a small garden room to make this happen.
Planning Permission
When preparing your outside space for the garden room you've dreamed of owning, you should also consider whether or not your structure is likely to need planning permission. For most buildings erected in the garden behind the main property, this should not be an issue. However, there are some other stipulations to this that you may wish to take into account:
The garden room must also be single-storey and have a maximum eaves height of 2.5 metres.
It should be situated at least 2 metres away from your property's boundary.
The floor area of the garden room should not exceed 15 square metres, or even 10 square metres if it is more than 20 metres from a house on designated land (i.e. a national park, the Broads, a conservation area, a World Heritage Site or an Area of Outstanding Natural Beauty).
It should also not cover more than half the land around your original property (this means the house as it was first built, so does not include any previous extensions).
Planning permission for any garden room design will always be required under the following circumstances:
If you intend to build your garden room in the curtilage of a listed building.
If you intend to build your garden room at the side of a property that has been built on designated land.
Your design ideas and uses for your garden room may also make a difference in whether or not you will need to make a planning application. This is because some local authorities across the UK require permission if you intend to use a building on your property for a commercial venture involving others. For instance, if you are a masseuse or a therapist and intend to see clients in this new building, you may be expected to apply for permission.
To learn more, please contact your local authority and check with them before committing yourself to plans for your new garden room.
Ideas and Uses for Timber Garden Rooms in the UK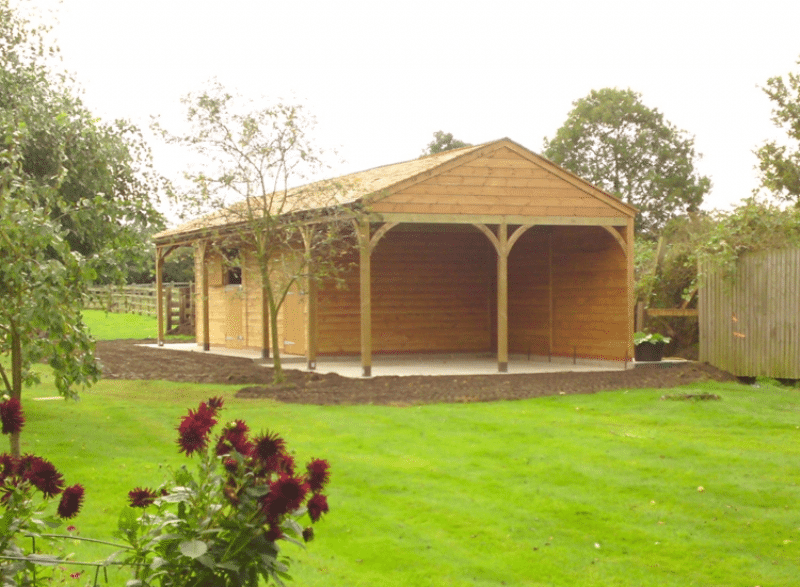 You may consider using your new timber garden room for a myriad of ideas and activities, each of which can be made a reality with our assistance:
1: Tranquil Summer Houses
By installing your very own outdoor living room or dining space, you could be bringing this relaxation to your back door. Consider creating a small space so you can comfortably read in a sun trap while staying out of the breeze, or buy a room big enough to fit a dining table, so all of your friends and loved ones can come over to celebrate the summer with a barbecue and some cool drinks.
If you are fortunate enough to own a pool, you might even think of turning this summer spot into a pool house, so you can spend the day out by the water and not have to walk all the way back indoors to take cover in the shade.
2: Peaceful and Quiet Garden Offices
In the modern era, having a home office has become something of a necessity for many. Equally, it is important to have an office space or an area where you are able to concentrate and work on projects without distractions or interruptions. If being a little bit closer to nature will help you to flourish when working from home, setting up your own garden office is the answer. Furnish your new space with your desk, shelves, favourite chair, and anything important you need to complete your tasks, and make your way through your workday in quiet comfort.
3: Versatile Hobby Spaces
As our buildings are manufactured to your specifications, and come unfurnished and ready for use, you will be able to set up your interior space exactly as you please. If you have a new hobby you'd love to dabble in more, such as art, you may consider ensuring your design ideas contain lots of windows to allow in as much natural light as possible. If you would prefer to have a room set up as a place for photography instead of an art studio, this can also be achieved with our help.
4: Home Gyms and Exercise Rooms
We understand that gym memberships can often leave a hole in your monthly budget, and exercising in public may not always make you feel completely at ease. Exercising in private is the perfect solution for this, and our garden room designs are more than capable of being adapted into your own exercise hub. Build your own as large as you need it to accommodate all your machines and equipment, and you will soon find that your new space is as cost effective as it is comfortable to use.
If you have always imagined practising yoga in a particularly idyllic spot in your garden, your new room may even give you the chance to carry out your routines in any kind of weather. The interior spaces we provide will always remain dry and ready for use, even if it is a typical day in the UK and the rain has started to fall.
5: Practical Storage Solutions
If you have found that you are running out of room in the main part of your property for everything you would like to keep, our garden room designs can easily be built to fit and safely store all of your belongings. Whether you are keeping documents or possessions that are important to your family, storing logs to keep them dry before using them in your fireplace, or need something kept secure for your business before you use it, we'll be able to build a space that's as large or small as you need, while still offering a modern, stylish aesthetic that keeps your outside space as beautiful as it was before.
Combining Your Garden Room Designs
If you cannot decide on a single use for your new garden room, you may consider buying a building which offers two interior spaces instead of only one. This may then be transformed into any set of rooms you wish, from a workshop for all your mechanical projects and its own attached tool shed, to a storage room for garden furniture and equipment, tucked in right alongside your own home office.
If you'd like to blend your interior and exterior spaces even more seamlessly, you may even think of purchasing a garden room that offers a sheltered outside space, such as a veranda, attached to the main structure. This presents the perfect opportunity for outdoor entertaining and al fresco dining, as the larger interior space may then be furnished for full relaxation, while the exterior can be kitted out with an outdoor kitchen, while leaving plenty of room for a large table and set of chairs.
Buy and Build Your Ideal Garden Room Design
If you have been considering your options for garden room designs and possible ideas for uses, please contact us and speak with a member of staff today. We'll be happy to discuss your requirements, and help you to set out specifications that could soon see your ideas being made a reality.
Call us on the phone or send us an email and one of our team will be glad to help you begin. We will even be fully prepared to answer any questions you may have about our products and services before you place your order.