A stable is essential for your horse and any new stables need to be safe, comfortable, spacious, and hygienic. Taking on board all considerations when building a stable will ensure you create a space that is comfortable, safe, and enjoyable for your horse. Are you looking to build a new stable for your horse? When designing a new stable, there are many factors you need to consider and there are lots of decisions to make. Horses enjoy being outdoors as much as possible. However, with the right stable design tips they can enjoy being kept indoors for a time too.
Stable Designs We Build
Here at Prime Stables, we sell and install a huge variety of equestrian buildings. All of our buildings are manufactured to order and we can easily adapt our buildings to suit your specific requirements. Not sure what you want from your stable? Scroll down to discover our stable designs.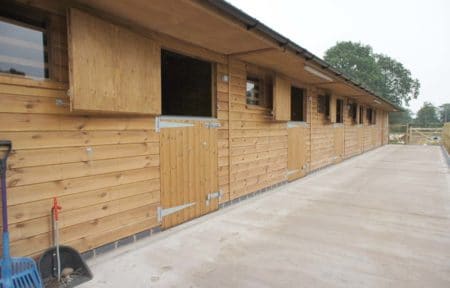 Designing and Installing Stable Doors that Work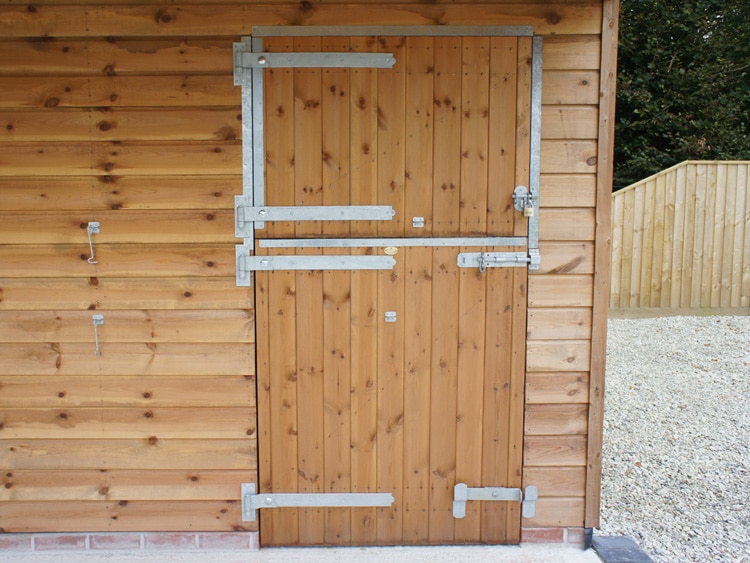 Secure, long-lasting, and quality stable door designs are essential for a functional stable. At Prime Stables, we install a variety of horse stable door designs. We work with you to find the ideal stable doors for your requirements. You should consider stable doors with latches that can be undone easily, but that horses cannot interfere with. Stable doors should also be able to fasten securely, keeping horses safe at night and preventing escape.
To find the best stable barn design doors for your stable layout design, speak to our experts. We can help advise you on the most functional stable door for your space.
Stable Lighting Solutions that are Safe and Effective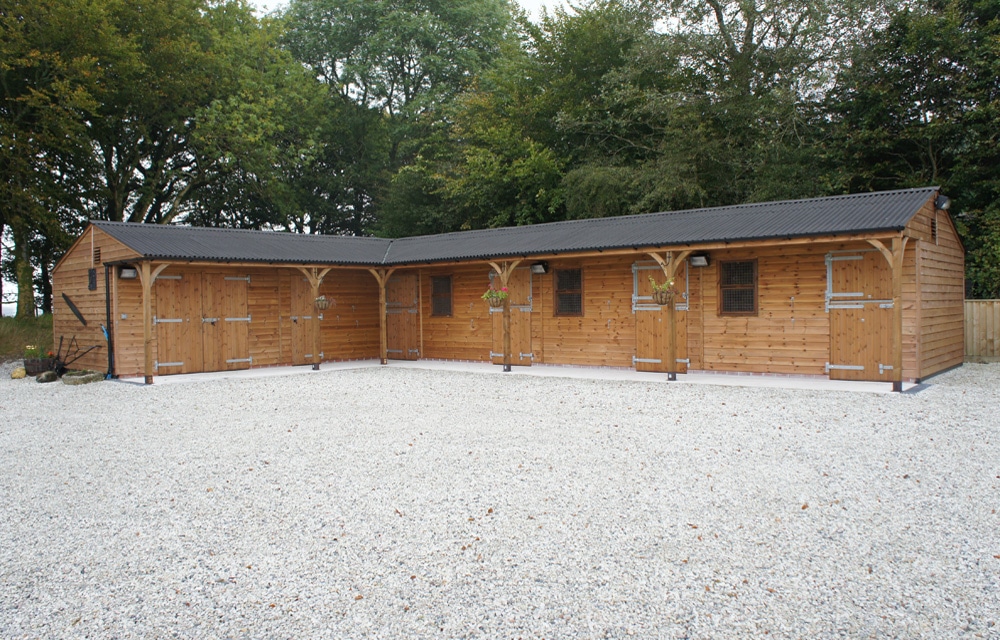 The stable should be a naturally light space. The provision of sufficient light is essential for your horse's comfort, helping him see easily and allowing for the safe inspection and care of horses. Stable windows are one of the easiest ways to let more light into the stable.
However, they should be covered by a protective grill or mesh so that horses can't break the glass. You should also incorporate portable lighting solutions into your stables design. Always arrange light fixtures into your stable design plan so there are minimum shadowed areas. Every area of the stable should be well-lit.
Top tip: light switches and electrical wires should be kept well out of reach of horses.
Consider Your Stable Storage Requirements
If you own a horse, you know just how much stuff comes with it. Your stable should be able to provide plenty of storage for horse feed, hay, bedding, and tools. Most of what your horse needs should be stored securely in the stable. If it isn't, you'll soon become exhausted trying to haul all the equipment around the stable yard every day. With efficient horse stable design ideas, you can enjoy a stable that caters to your needs, provides for your horse, and stores everything you need in one place.
Enable Effective Ventilation in the Stable
Horses need a constant flow of fresh air to stay healthy. Stagnant air can make horses very sick through lung infections and asbestos build-up. What's more, without proper stable ventilation, your horse can tire very easily. So, it is essential you ensure effective ventilation is accounted for in your stable design.
The easiest way to achieve effective ventilation is to provide sufficient openings around the stable and in the stalls, including doors, windows, and vents. This allows fresh air to enter the stable and remove stagnant air, dust spores, and heat – improving the overall comfort of your horse.
Prime Stables are Experts in Stable Design
At prime Stables, we design and install a wide variety of equestrian stable design timber buildings. We are available to talk through your luxury stable design layout and any specific requirements you have. We can help you choose the right timber building to suit your requirements. Call us today on 01403 823 836 and let our expert team provide the most functional, safe, and comfortable stable for your horse.