How to Clean a Stable: Advice from the Experts
Cleaning and maintaining your stable is essential for stable upkeep and the health of your horse. Unclean stables don't just look unpleasant, but they also pose a health risk to your animals. Stables that are not regularly cleaned and maintained attract insects, bad odours, and encourage the spread of sickness.
Cleaning out your horse stable should be a daily task. As experts in stable care, we know that it usually takes 20 minutes to carry out a quick stable clean. Our beautiful timber stables are expertly crafted to make cleaning and maintenance easy. Maintained effectively, our stables will look good and last for years. If you don't know where to start with stable maintenance, we share our expert advice with you below.
How to Clean a Horse Stable
Once you are in the routine of cleaning your horse stable out on a daily basis, you can easily complete the task in 20 minutes or so. The more streamlined your methods become, the more easily they can evolve into a normal part of your daily routine.
Dress Appropriately: the first step to cleaning a stable is to dress in appropriate clothing because this job can get messy! Invest in some overalls, always wear gloves, and make sure your wear waterproof work boots.
Prepare the Stable: It is never a good idea to clean the stable while your horse is still in the stall. This can be a stressful experience for both of you and may even result in injury. So, the first step is to start with an empty stall. Remove your horse, feed tubs, toys, and water buckets before beginning. Yes, it can be a mission, but it will make giving the stall a thorough clean so much easier.
Remove Wet Bedding: urine-saturated bedding can be extremely harmful to your horse's lungs, causing animals to breathe ammonia, making them sick. So, it is essential that you remove wet bedding from the stable every day. The easiest way to remove wet bedding is by using a pitchfork. Fork the bedding into a wheelbarrow and dump the content outside, far from the stable, on the assigned manure pile.
Deep Cleaning: occasionally, you may want to completely empty the stall so that you can give it a deep clean. In this instance, you should keep filling your wheelbarrow until the floor of the stall is completely empty. Then sweep and hose it clean. You can even put down an odour-control solution or stable disinfectant to help reduce the likelihood of infection, sickness, and bad smells.
Don't forget to let the stall floor thoroughly dry before placing down fresh, new bedding. Otherwise, the bedding will be wet straight away and will need replacing before your horse has even slept on it.
Clean Stable Alleyways and Doorways: once you have fully cleaned out the stall, it's time to focus on cleaning stable alleyways and doorways. Use a strong broom to sweep up any debris such as spilled manure, shavings, or straw from the stable. Left unattended, debris in doorways can build-up and turn into a muddy mess in wet weather. Avoid this problem with regular cleaning.
Get a Pressure Washer: a pressure washer is one of the easiest ways to lift dirt and grime from your horse stable to produce a great finish. You can even pressure wash rubber matting – just be sure to let it thoroughly dry before putting everything back in the stable again.
Scrub Feeding Bowls: your horse can eat a lot and will drink plenty of water, particularly during the summer months. So, it's important to clean out your horse's water bowls and feed buckets every day. Remove old food and water before thoroughly scrubbing the buckets and washing them out. This will help reduce the likelihood of sickness and will keep your horse healthy.
Increase Stable Ventilation: mucking out a stable can cause a build-up of dust and debris (another reason why we recommend removing your animals before cleaning). Excess dust and debris in your stables can be harmful to breathe in, so while you clean it is important to open stable doors and windows to increase ventilation. Don't let your animals back into the stable until the air is clear again.
Disinfect Cleaning Equipment: illnesses are spread easily in the stable, which is why you should do everything you can to minimise the risk. It is important to regularly hose down cleaning equipment and disinfect it so avoid any unwanted remnants and germs being moved from one stall to another.
Regular Cleaning and Maintenance is Essential
Diseases are easily spread around stables, which is why minimising the risk through effective stable maintenance is so important. Keeping your stables clean ensures your animals can enjoy being in an environment that is safe, functional, and healthy to spend time in.
Install New Stables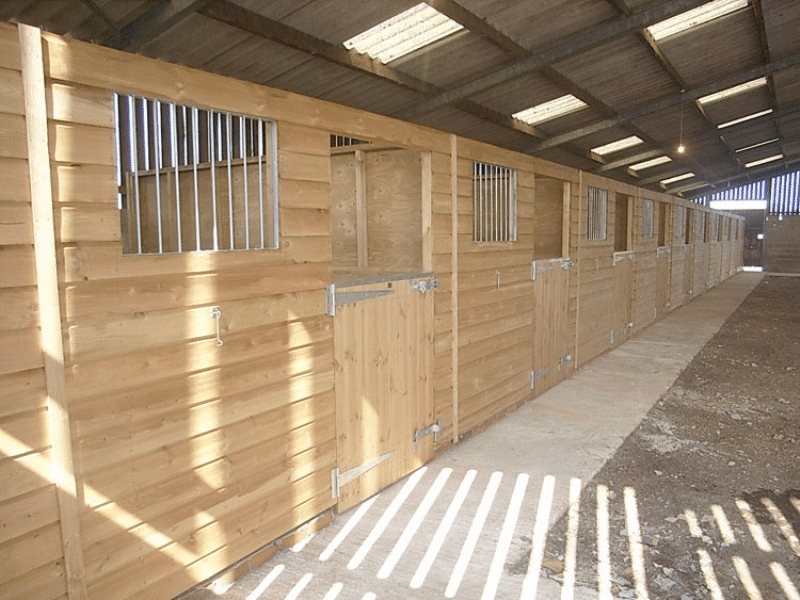 Sometimes, no amount of cleaning will be able to restore your stables to what they once were. Old, weathered stables simply do not function like newly installed timber horse stables. At Prime Stables Ltd, we install a wide variety of horse stables and because we manufacture to order, our expert craftsmen can even create bespoke designs to suit your current livery yard.
Our stables are designed with easy cleaning and excellent function in mind. If you need a new stable or you would like to talk to us about your requirements, please do not hesitate to get in touch.