In this modern era, more homeowners are turning to transforming and utilising their garden spaces for a range of fun and practical uses. This may range from gorgeous garden buildings and summer houses to act as relaxation spots in warm weather, to garden office ideas and studio spaces for those who feel most at ease when working near the great outdoors. Long gone are the days of simple, cheap garden sheds for tools and other miscellaneous items!

At Prime Stables, we are proud to be able to place ourselves among the top manufacturers of garden offices in the UK, and we are always interested to hear the ideas our clients have for the modern garden rooms they have ordered from us. We are even happy to offer a few suggestions of our own, if you find you cannot decide what to do with your new space.

We will design and install any type of outdoor office or studio room that you need, at a price which is best suited to your budget, so call us or send us a message today and we will be glad to discuss your requirements. Alternatively, read on and take inspiration from the ideas we would apply to any outdoor office space we had installed ourselves.

Ideas for a Home Office in Your Garden

Imagine that you have been working from home for some time, slowly working your way through piles of papers and files, stuck at the same desk with a view you have long since started to be bored of staring at through the window. Could a change of scenery, or a new angle, perhaps revitalise and lift your spirits? Bringing your work (desk and all) down into a new outdoor office may be just what you need, and opening the doors to your beautiful, recently purchased space may just be the literal breath of fresh air needed to give new life to your everyday reading and writing tasks.

Surrounded by the peace and quiet of your own back garden, any large or small garden office can suddenly become a blissful retreat. If you have room in your plan, why not fit in a comfortable chair as well, or some bookshelves with your favourite classics? After all, no home office or study is complete without its own library.

Ideas for a Garden Studio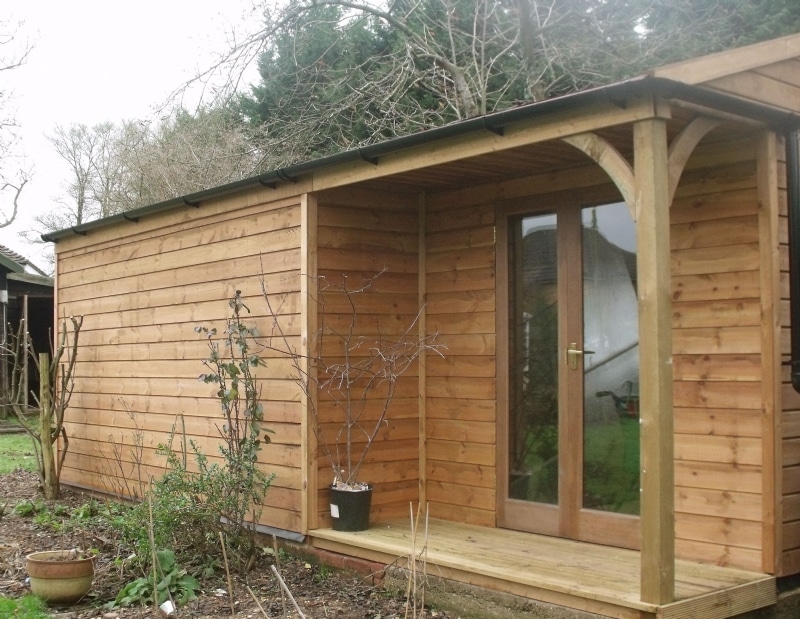 Even if you are not intending to carry out desk work, a garden office may still make the perfect sanctuary for you to master any art form or acquire any skill. If you would absolutely adore a quiet place to paint, or to put a potter's wheel, then an outdoor office turned into a garden studio can offer you this. Such a spot may even make an ideal location for a photography studio, owing to the vast amounts of natural light that can be blocked out as needed (though you may have to locate your darkroom elsewhere).

Perhaps your talents lie with music, or dance? In these cases, you may decide to leave your garden studio as empty as possible, to provide a wonderful booth that offers space to move, privacy from onlookers and its own level of acoustics.

Decor and Interior Design Ideas for Your Outdoor Office or Studio

The decor and interior design of your garden office or studio should, of course, depend on your own specific tastes and reflect what you intend to use the space for. To give an example, you may decide to place down soft carpets or rugs to add just a touch of comfort to a home office or garden study, resting your feet and helping you to relax as you complete your work and listen to the birds just outside the door. Your interior design ideas may even turn to your wall decor, as you decide to frame and hang your previous art pieces that you created right there in the privacy of your very own studio. You would never find this sort of freedom for decor with a cheap garden shed!

Make Your Dream Garden Office or Studio a Reality

When you have brought together your perfect set of ideas for a garden office or studio space, contact us and speak with one of our members of staff here at Prime Stables.

We will be delighted to assist you in planning every aspect of your new working study or hobby room, and we will ensure that each part is crafted exactly as you need it. Every product we provide is made bespoke to order, so you have the opportunity to apply any design to your purchase, keeping your new home office or studio tailored to your specific requirements. There will be no cheap, ready-made garden sheds here; everything you ask for will be taken into account and all work shall be carried out to the highest standards.

Please do not hesitate to get in touch if you require assistance of any kind. Our experienced team members are always available to answer questions and queries, as well as to provide quotes for any garden rooms you are thinking of having built, for any purpose whatsoever.

Our phone number can be found at the top of this page if you wish to speak with us, or if you would prefer to provide a precise summary for your requirements, our contact form will provide you with the space you need. You will soon hear from us again, and together we will bring your garden office ideas to life.