We are proud to be able to help our clients create a gorgeous bespoke design for the contemporary oak framed garden room that offers the work, storage, or living space they have always wanted for their properties. But how much will a garden room cost to build and install? What is the average cost a homeowner can expect to pay for their ideal outdoor space?
We have created this guide to answer these questions and to alleviate worries about what you might expect to pay. Read on to learn more about how much it will cost to build a garden room in the UK, or contact us right away if you already know what you would like to build and already have a budget in mind.
The Average Cost of a Garden Room in the UK
The average garden room cost in the UK is currently somewhere between £2,000 and £15,000, though prices may increase depending on a number of different factors involved in the manufacture, preparation, and installation of the product. You should consider each of these carefully before you decide on the purchase that will suit your needs best and place your order.
Factors to Consider When Budgeting Garden Room Costs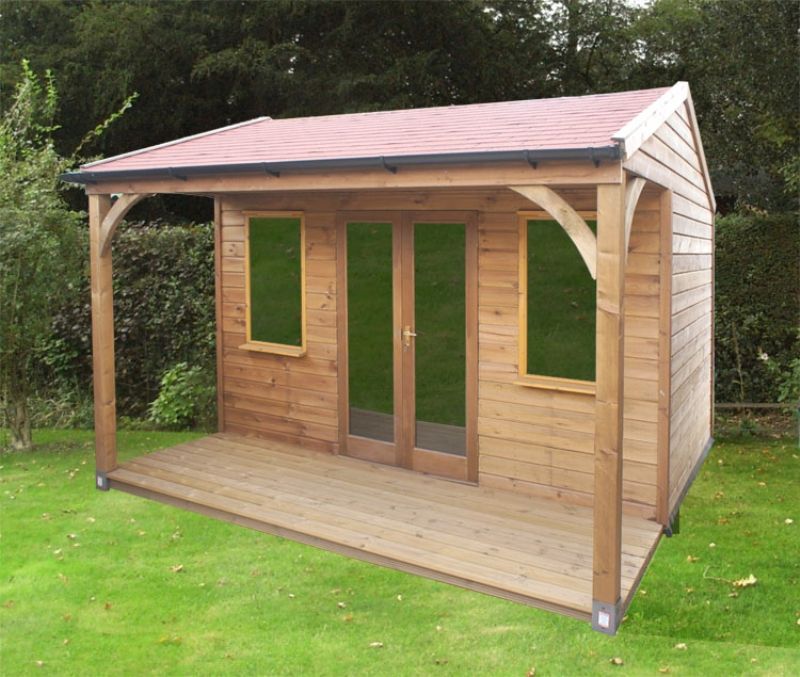 Each of the following may contribute to the cost of building a garden room somewhere on your property:
The size of the garden room you are planning on creating.
Whether you would prefer a modular (ready-made) or bespoke garden room design.
The intended use, as this may contribute to an increase in size or a change of design during manufacture.
The materials you are planning on using (a timber frame garden room will most often cost less than an outbuilding made from brick or cement).
The extra features you would like for your building, such as bi-fold doors or double glazed windows.
The price of delivery, if this is offered by the firm you are choosing.
The time and costs involved with hiring third-party labour to build your room.
Whether the interior of your space requires plastering, cladding, or insulation.
Whether the garden building will need electricity or plumbing works.
Whether you will also need a pathway built from your main property to the room once it is complete.
When you decide to buy a beautiful, contemporary green oak garden room from us, we will be able to factor some of these garden room costs into the price of our work, so you won't have to consider them separately. This is because we have a dedicated team who will be fully prepared to deliver your new oak framed garden room anywhere in the UK, before carrying out a swift, professional installation to create the outside space you have been imagining for your property.
We are more than happy to help you cut out the costs of third party labour and save you time that might have otherwise been spent searching for someone to put your purchase together. This means that you will be able to use it more quickly, making it cost-effective in terms of usage.
How Much is the Cost of Planning Permission in the UK?
As most smaller, freestanding garden room designs are considered permitted development, you are unlikely to need planning permission to build them. This should mean that you will not need to pay the cost of a planning application, either.
However, as some bespoke oak structures and garden rooms will be larger in order to accommodate all the needs of the purchaser, you may have to be prepared to pay slightly more out of your budget to make the application.
In England, the planning application fee is currently set at £206. In Wales, the fee will be £190, and in Scotland the fee will be £202. By knowing each of these prices in advance, you will be able to factor in any potential costs more easily to the budget you've set aside for your garden room.
Calculating Garden Room Prices at Prime Stables
As every timber frame garden room we provide is made to the bespoke requirements and specifications of the purchaser, we cannot offer a fully set list of prices to match the product manufactured. This is because the cost of our work can often vary considerably, and will most likely do so again in your circumstances, depending on what you need to create the perfect garden feature that will complete the look and use of your outdoor space.
To ensure that each of our clients is happy with the design we will create for them and the price they will pay once the work is complete, we will work closely with them to plan out each feature individually and then provide an estimate from this. We'll also be more than happy to provide this service for you when you contact us on the phone. One of our friendly members of staff will take the time needed to discuss everything you need for the oak framed building you've always wanted, so you will only pay for the features you would like in your bespoke design.
Alternatively, if you'd like some more time to gather together a list of specifications for your new garden office, hobby room, or storage area before you find out how much it will cost to build, we'll be glad to take a look and return to you with a quote as soon as possible. Send your list to us in an email and one of our expert team members will reply in a short amount of time, helping you to prepare your budget for the oak creation that you'll be able to use for years to come.
Create Your Dream Garden Room at an Ideal Price in the UK
If you have been considering your options for a timber frame garden room to transform the look and use of your little or larger patch of the great outdoors, all while remaining within your budget, contact Prime Stables today. We are more than certain that we will have the affordable yet stunning contemporary solution that you have been searching for.
We never compromise on the quality of our products, whether you only need something small to use as a reading, studying, or relaxation nook in the warm summer months, or want something larger to host a big barbecue with all your friends and family. Speak with us today and we'll be able to set to work as soon as possible, so you'll know exactly how much your garden room costs and will be able to get it ready in time for the nice weather.