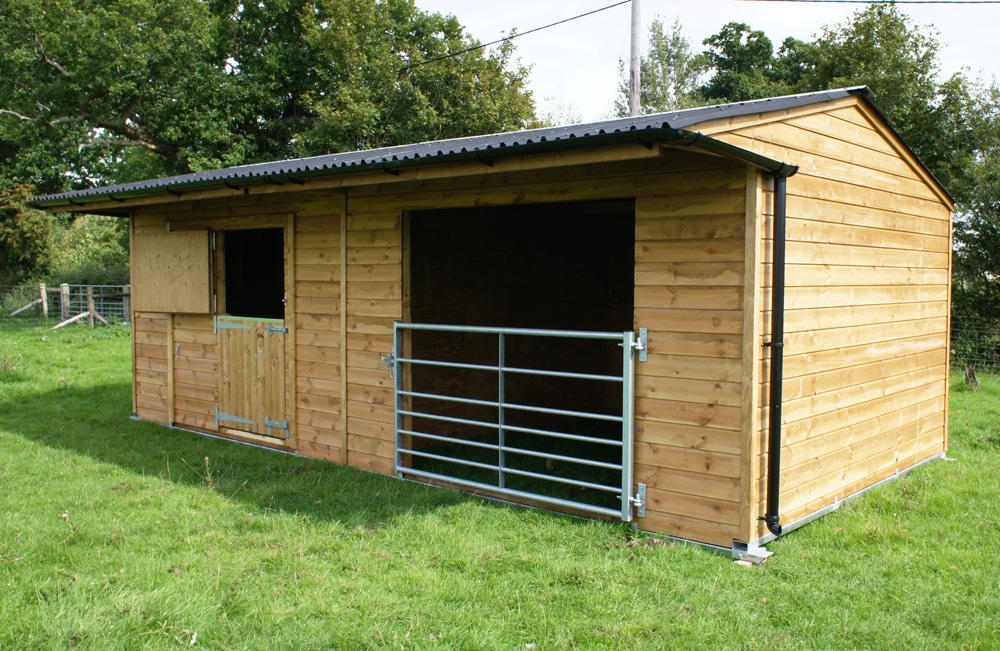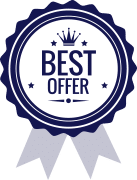 Mobile Field Shelters Dorset by Prime Stables -Finance Available
Taking care of animals can be difficult, but definitely gratifying. However, the challenge that some of our prospective customers may encounter is attempting to get a shelter or barn implemented for their animals, as the preparation route can easily develop into a hassle long before they even begin.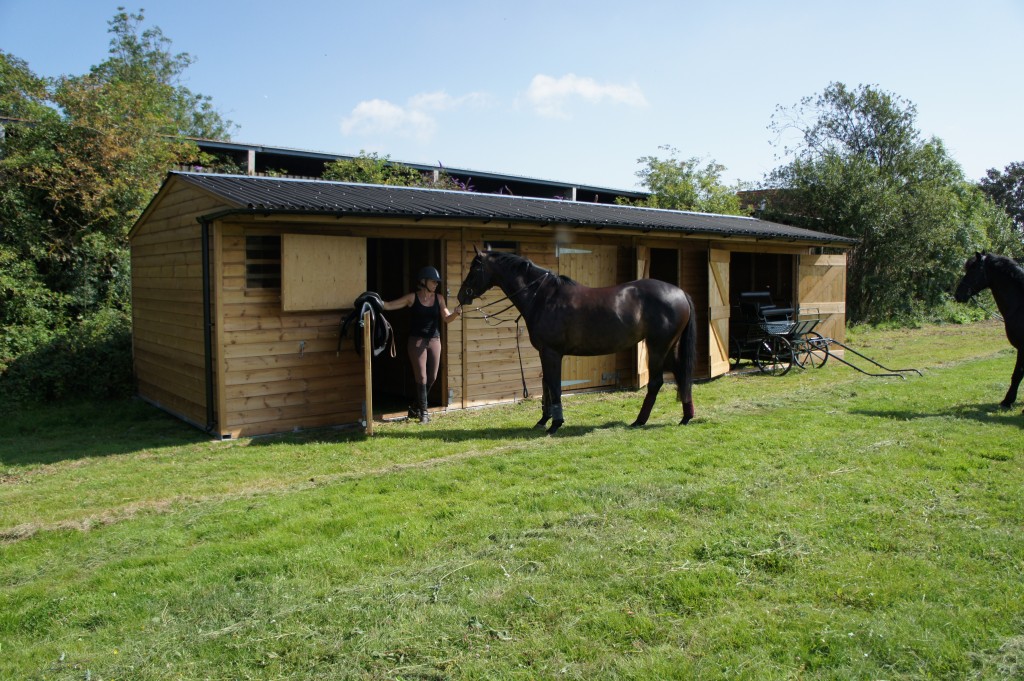 Mobile Field Shelters Dorset
This is precisely where the benefits of possessing a mobile field shelter and modifying it to your personal needs alleviate you of such strain because preparation is not required. Mobile Field Shelters Dorset offer you instantaneous shelter for your animals and livestock. We can also provide mobile stables in Dorset. Right here at Prime Stables, we endeavour to supply you with the benefits of the right shelter for you and your animal's necessities.
Mobile Field Shelters Dorset
At Prime Stables, we pride ourselves on the quality of our mobile field shelters. These structurally safe shelters are founded on a steel pulling frame. This towing frame was specifically created for a local equine breeder over ten years ago and our various designs have stood the test of time. Our testimonials speak for themselves and we constantly work closely with our clients to provide them with a professional and caring service.
Size Matters
The size of the construction is invaluable when individuals are aiming to secure the appropriate protection for their animals. Nevertheless, people have to realise that choosing the most suitable size is essential for sheltering their animals. Some mobile shelters can be too small, however at Prime Stables; we can adapt the dimension of the mobile field shelter to suit the size of your animals that you are using the shelter for. We only fabricate to order, this enables us to easily incorporate your own requirements.
Craftsmanship
At Prime Stables, we pride ourselves on designing and fabricating mobile field shelters utilizing the finest materials possible. Our exceptionally trained team of craftsmen will meticulously fabricate your buildings. Once complete, they will then hand over your build to our installation team who will then come and assemble your mobile field shelter.
Movability of the Shelter
Mobile field shelters Dorset are sturdy shelters that are often mistaken as stationary buildings due to their size. Here at Prime Stables our towing mechanism enables these structures to be easily manoeuvred around paddocks. Click here to view our mobile videos that help our clients on how to tow these buildings effortlessly.
Bottom Line
You will receive a premium mobile field shelter giving you on-the-spot shelter, helping with your animal welfare and husbandry. For that reason, make sure that you get your mobile constructions from the most trustworthy specialists in the marketplace, Prime Stables; we provide a value for money solution.
We care about animals and care about their health and wellbeing. Trust Prime Stables Limited to provide the best quality mobile structures available.
What our Clients are saying…
Of course, it is easy for us to promote our garages and workshops by saying how great they are, but what you need is real proof. That's why we provide real testimonials from real clients, so you can get an idea of what people are saying about us. If you are impressed by what you see, why not get in touch today?
I just wanted to write and tell you how well the field shelter went up last Friday here at Hayling Island. Both Ben and Ryan are lovely lads, very efficient and professional, a joy to have on the yard. We are all very impressed with the workmanship that has gone into the build before it arrived on site and Nigel, my little pony who cannot be stabled absolutely loves it. He is no longer wading through fetlock deep muddy sticky ground. A big thank you, please from all of us to all of you.
I instructed Sarah (MD) to visit my property to discuss the replacement of a Tractor shed, two stables and a tack room. Sarah's ideas and plans for the new proposed building were excellent and very clearly understood. This would become even more apparent when I received the professionally drawn up planned details just a few days later. Nothing was left to chance and all minor details of the building were fully explained to me before I agreed our deal...I would thoroughly recommend Prime Stables for an excellent new building that is both practical and functional which has more than surpassed my greatest expectations.
Hi Kim. I would just like to thank you, Paul, John Ross and Krzysztof for my lovely shelters, I couldn't think of a better company to go to. You have all been so efficient and helpful. The horses like the shelters so much that they refuse to go in them as they might spoil them! We will have to think of something else to build now just so we can use you again. Bestest wishes, Kate.
Dear Sarah. Your chaps did a great job on the stables and we are 100% happy with the installers and the stables. Many thanks and I will recommend you if anyone asks me about the stables. All the best. Adam.
Dear Nikkie. Just a quick note to let you know how delighted we are with the new field shelter and tack room that was delivered today. We are extremely impressed with the quality of the product and the whole process of choosing and purchasing through Prime Stables was very easy due to the care and professionalism you showed. We cannot thank you enough, and will definitely be in touch when we are ready to build our new stables. Thanks again. Jessie (and all the alpacas).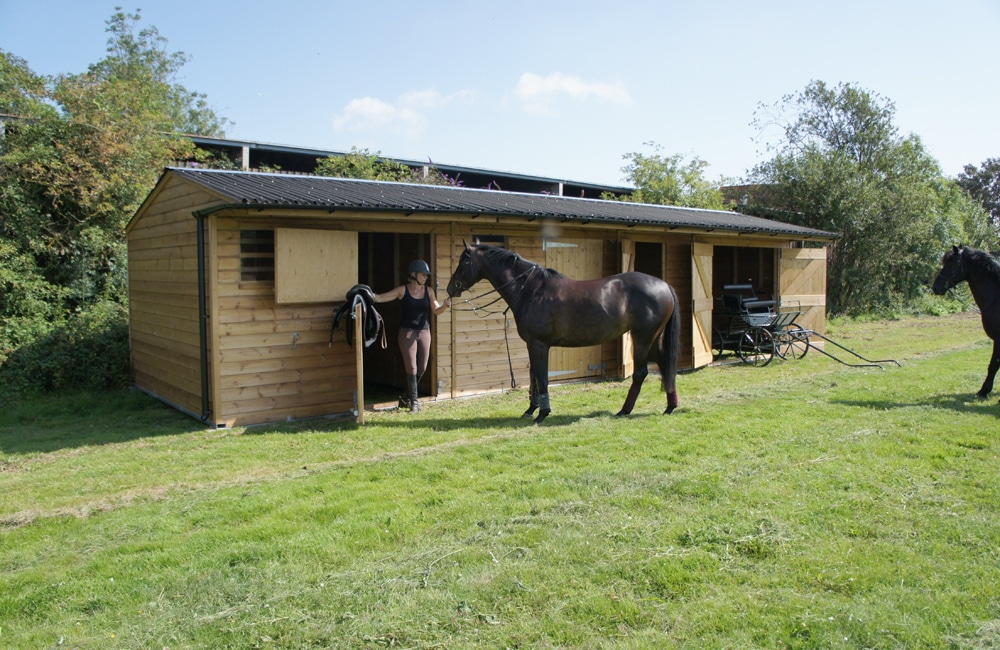 Contact Us Today
Get in touch today to discuss your timber garage and workshop requirements. Don't see a design that you like? Don't worry; we are proud to offer bespoke design services to all of our clients. So, if you have any specific requirements in mind, please do not hesitate to get in touch. We would be more than happy to advise you and answer your questions. Call us today!