Garden Buildings in Blackpool | Garden Buildings to Suit all Budgets & Requirements
Your garden building should emphasise luxury, a place for you to relax, work, study or simply enjoy throughout the seasons. Garden buildings from Prime Stables are exactly that; adaptable outdoor buildings built to your exact requirements. 
We provide a fully comprehensive service to our clients, from helping you choose a stunning garden building suited to your needs, to carrying out installation and providing aftercare advice to ensure your garden building lasts a lifetime. 
Together, we will work to design and install a luxury garden building to be enjoyed throughout the seasons. Contact our professionals today to purchase your building today.
Our Luxury Garden Building Types in Blackpool
We provide five building types as standard, but they can be built bespoke to suit a variety of needs. Explore our buildings below for some inspiration (specifications, weights and dimensions can be found on individual product pages).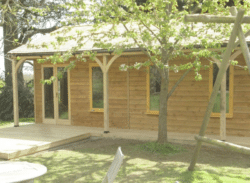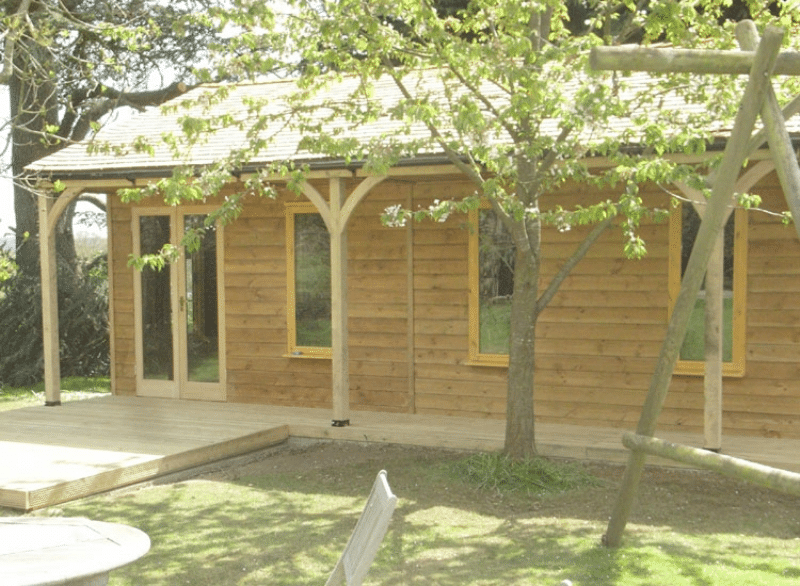 Traditional Garden Building
Our traditional garden buildings are designed to meet any requirement and act as a blank canvas for you to customise whichever way you want. Maybe you're considering creating an art studio, a spring or summer office or simply a secondary building to relax and unwind away from the house.
Our garden buildings in Blackpool are made from high quality timber and are built by our experienced timber graders to ensure a long-lasting and truly exceptional build.
Explore our garden buildings in Blackpool.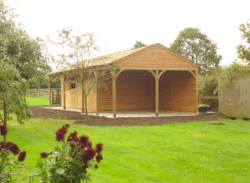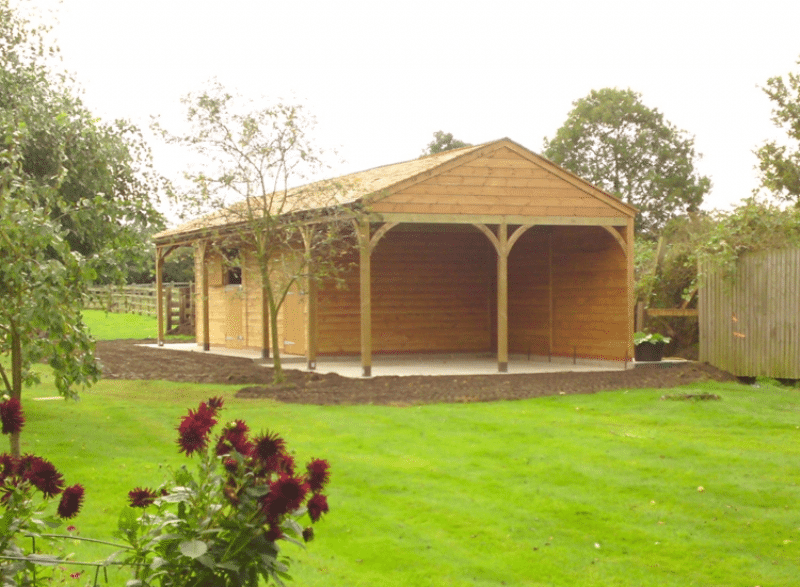 Garden Building with Open Area
Why not add an open area extension to your garden building? This option is perfect for extending luxury into your garden, you may choose to utilise this space for outdoor cooking, summerhouse log cabins or simply placing a few chairs to relax in the summer sun.
Learn more about the benefits of our open area garden buildings in Blackpool.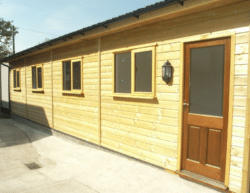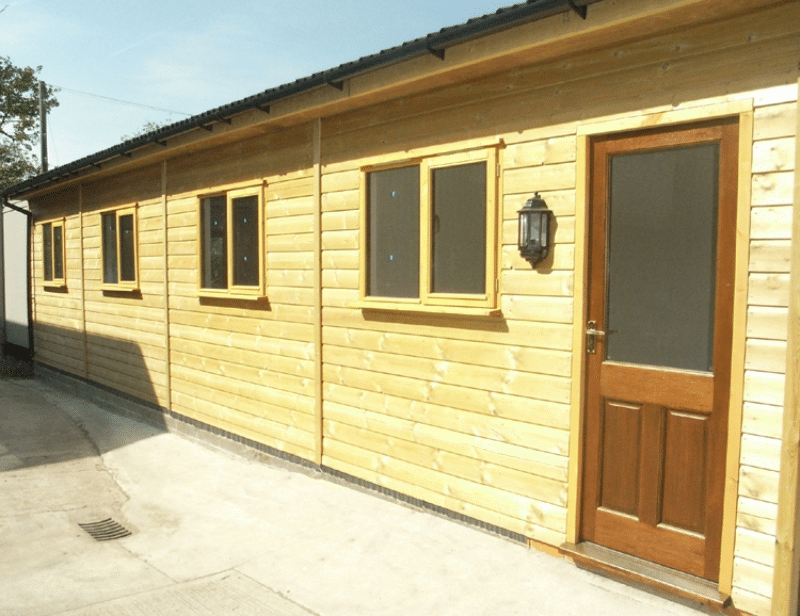 Office Buildings
For clients who are keen to separate their home from their office, our office buildings provide the ideal solution. Working from home doesn't have to mean from your house, our timber office buildings in Blackpool can be built to accommodate your exact office requirements. Whether you're an artist, creative or running a business from home, together, we can build a workspace the boasts productivity and professionalism.
Take a look at our premium wooden office buildings in Blackpool.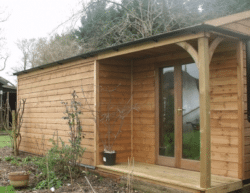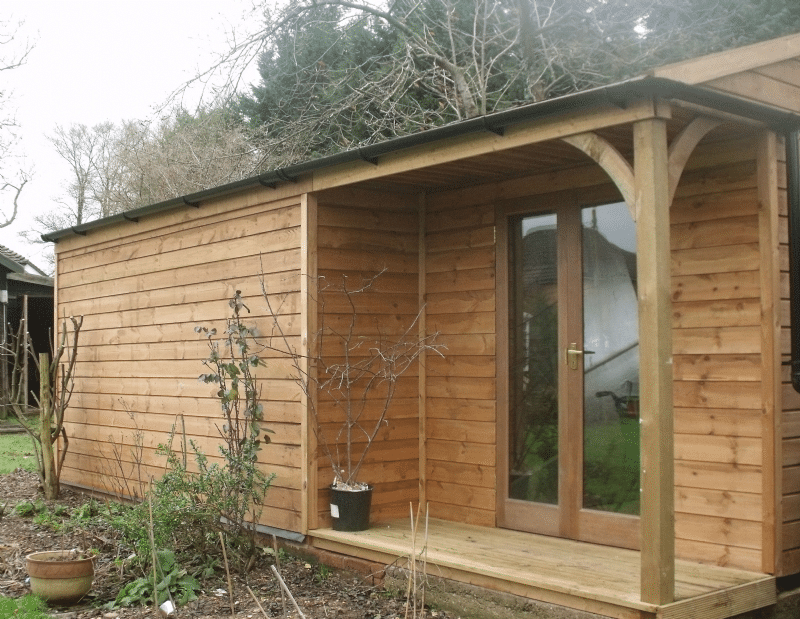 Garden Room and Store
Our garden room storage buildings combine quality timber woodworking with versatile storage solutions. You may be looking for a quality timber garden room to store lawn equipment, outdoor games or furniture for the summer months, our garden room and store buildings are the definition of versatility. A compact and brilliantly designed storage solution for any purpose.
Purchase your garden room and store buildings today form Prime Stables.
Home Office
Slightly smaller than our timber office buildings, our home offices are aimed at clients who are looking for a quiet and serene working solution away from the house. It may be that you're looking to separate home from work, or you'd like a personal workspace where you can enjoy the beauty of your garden.
Transform your work life with one of our personal home offices, designed by experts.
---
What Makes Us Different?
When you buy a timber garden building from Prime Stables, you're buying from a family-run company with over 20 years' experience in the stabling industry. Through us, you will receive an end-to-end service that takes into account your bespoke building requirements (and optional extras) to deliver a long-lasting and timeless garden building.
We also provide professional aftercare advice and support to ensure your garden building thrives through the seasons.
The Benefits of Choosing Our Garden Buildings
We pride ourselves on being able to provide clients in Blackpool with exceptional garden buildings tailored to their exact requirements. Whether you're looking for a bespoke home office for your garden or a storage building for garden equipment and furniture, we can design and install a building to accommodate these needs.
Additional benefits include:
A full end-to-end service – our family run-team are always on-hand to provide exceptional advice and support throughout the construction process. Whether you'd like to know how to maintain the appearance of your garden building through the seasons or want to learn more about our building process, we're here to help.
We have an in-house CAD team who can assist you with architectural drawings for your planning applications.
We only use the highest quality timber when constructing your Blackpool garden building to ensure solid and last structural integrity.
All garden buildings are designed by our in-house team, which means you're buying from trusted professionals who have over 20 years' experience in the construction industry.
Call Us Today to Discuss Your Requirements
Transform your garden today by contacting our friendly and experienced family-run team at Prime Stables. Together, we will design, build and instal timeless garden buildings that thrive through all the seasons. We will also deliver and install your garden building.
If you're unsure on what type of garden building you require, you'd like some further inspiration, please do not hesitate to contact our team for advice or explore our wide range of garden buildings.
To purchase your garden building in Blackpool, please contact our team via email or by calling our team.
What Our Clients Say About Us
" " Admin Ladies. Just a quick note to say thank you so much for great service! Both in the office & the boys on site have completed a superb project & I'm delighted! Thank you, Su Pedersen


" " Hi Sarah Many thanks for our stables and the guys were fantastic. I've liked your Facebook page and I've sent you some more photos for your page!! The doors are the perfect height for Briagha and Maisie and I thought Briagha in the corner might be in the dark, but the light strips on the roof and the windows have made it nice and bright for her. The bigger box is my spare for a potential Briagha and foal – not next year, but the year after!!! Another little Falabella hopefully! Who knows – I might need you back to build some more stables !! Thanks again. Pauline Young

" " Dear Sarah and Natasha, Just to let you know that our horses are now as pleased with the beautiful mobile shelter from Prime Stables as we are – it took them a little while to get used to it especially as the sweet chestnut tree behind it is currently bombing the roof with chestnuts! Thank you all, including the guys who built it and put it up for us. With best wishes, Laria

" " Hi Sarah. The guys have just left. I am really pleased.....it is a real quality job. Very nice guys. I kept them supplied with tea every hour or two. Amazing how quickly they put it together!! We had a bit of a problem initially with the slope on the site, but I had ideas on solving tha. We worked together and they implemented a good solution. Thank you again for the way you have fulfilled what we wanted. Very satisfied customer!! Best wishes, John



" " Dear Sarah, Many thanks for final paperwork, and I understand Vikki's horse - "Apple" has quickly taken to her new shelter, and Vikki is very happy with the building. I've not see it myself, though I've seen the videos! I've forwarded your email to Vikki, and I'm sure she will also click that Facebook link for you too. Thanks again, and kind regards, George
See our Testimonials