Premium Garden Buildings in Bedfordshire | Handcrafted Quality Timber
As the spring and summer months approach, you may be looking at ways to enhance your garden with a versatile garden building. Whether you're looking for an area to relax and unwind in the summer, somewhere to store garden furniture and lawn equipment or even create a tranquil home office away from home. Prime Stables provide a variety of expertly-crafted garden buildings tailored to your requirements.
Each building is designed by our staff, of which hold over 20 years' experience in the construction industry. The timber we use is assessed to ensure it matches our high levels of quality to guarantee a lasting and timeless build that flourishes through the seasons.
Being a family-run business, we understand the importance of client communication and providing a fully comprehensive and personal service throughout. From start to finish, you will be able to contact our team with any questions or support regarding your garden building in Bedfordshire.
From LU1 (Caddington) to SG5 (Apsley End), we can deliver and install garden buildings across Bedfordshire.
Our Range of Stunning Garden Buildings in Bedfordshire
We offer clients in Bedfordshire a range of garden buildings, including traditional garden buildings, open garden buildings, home offices, garden storage rooms and personal home offices. Below, we have outlined the use of each building to help you select which garden building will best suit your needs.
*All wooden garden buildings can be designed in a range of sizes, dimensions and specifications.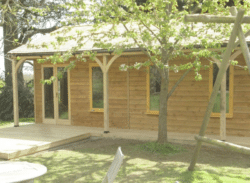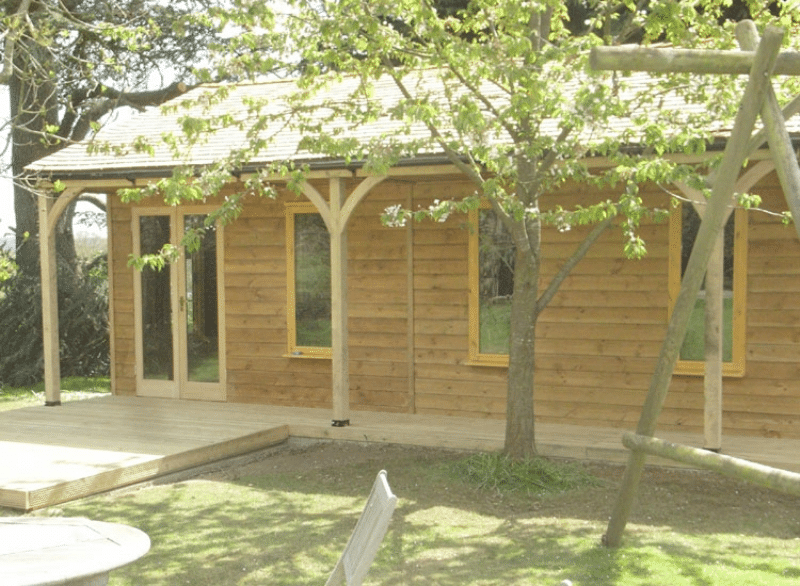 Traditional Garden Building
Our most versatile garden building, this design allows you to create a space suited to your requirements. You may choose to transform this garden building into a home gym, hobby room, spa and relaxation area or even a home cinema. The opportunities are endless with a traditional garden building. Our team will work with you to help choose a design that suits the intended use of your garden building.
Create something wonderful with our traditional garden buildings in Bedfordshire. Purchase yours today or get in touch with our friendly team for more information.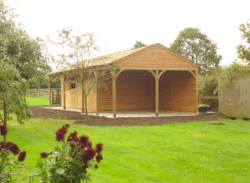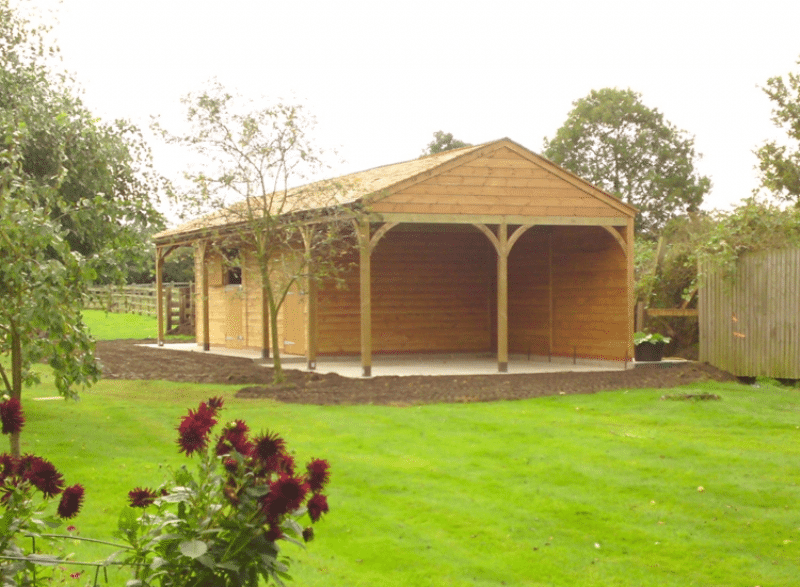 Garden Building with Open Area
Why not add a little extra open space to your garden building? Ideal for clients who want to extend their luxury into their garden, this open space can be used for outdoor cooking, BBQs, entertaining guests, relaxing in the summer months or even for storing logs for winter fires.
The additional space can be used for anything, and can be designed bespoke for your needs. Purchase your open area garden building in Bedfordshire today by contacting our team.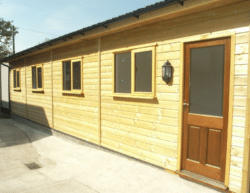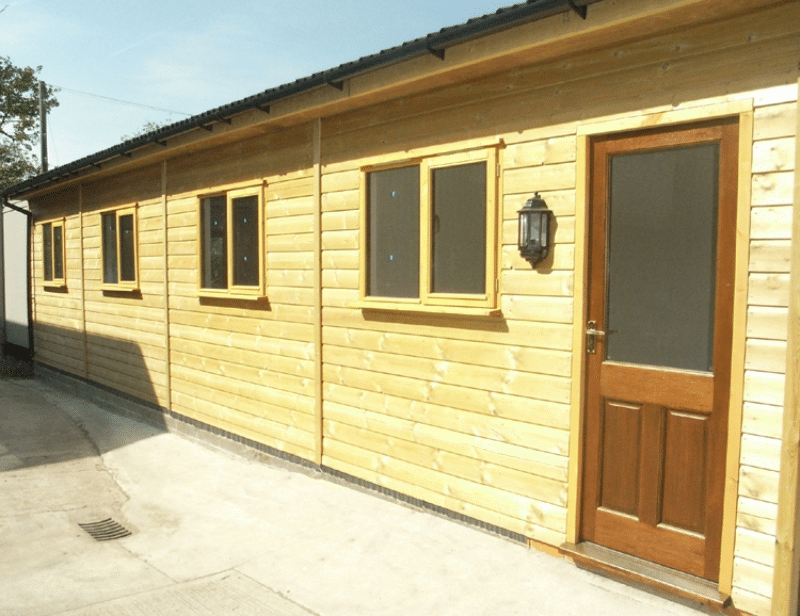 Office Building
For clients who work from home or are looking for an adaptable workspace solution, our office buildings provide the perfect solution. Our timber office buildings can be designed to house multiple employees, offer a unique working experience and save time on commuting if you're working from home! Our wooden office buildings are designed bespoke and according to your requirements.
Please get in touch with our team to find out how we can transform your workspace in Bedfordshire today.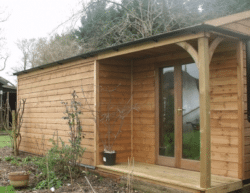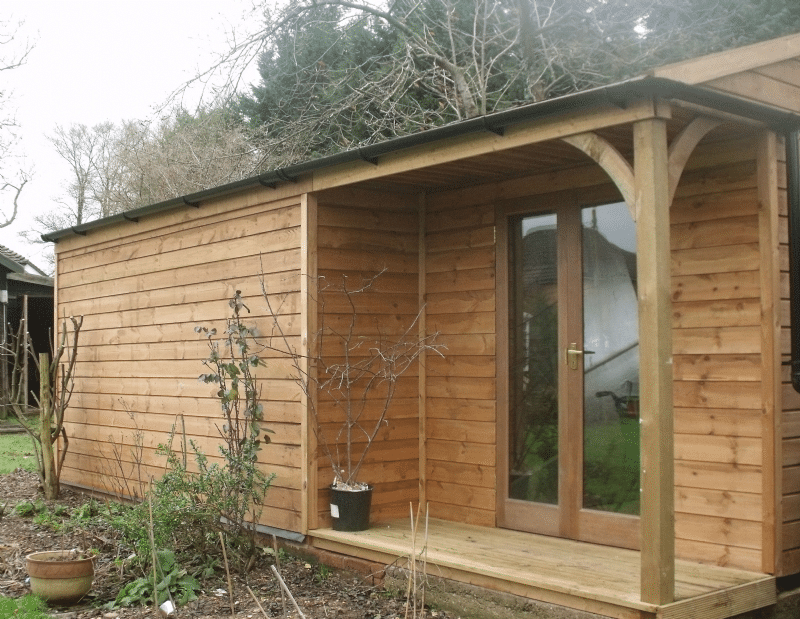 Garden Room and Store
Our garden room and store buildings are designed with functionality and elegance in mind, helping you keep your garden and lawn equipment safe and in top condition through the seasons.
Our timber buildings can be designed bespoke with as much or as little storage space required, size is no problem for us.
Purchase your garden room and store buildings today form Prime Stables.
Home Office
Quaint, quiet and high quality, a wooden home office building removes busy commuting for working professionals in Bedfordshire. Our home offices mean you no longer have to work at your desk or in your living room at home. You have your own personal, independent workspace designed to suit your working requirements.
Alternatively, you may choose to use your home office as a secondary workspace or creative studio.
Become more productive with one of our timber home offices at Prime Stables.
---
One of the major benefits that comes with purchasing a garden building from Prime Stables is the level of customisation. We understand that some clients may require bespoke builds or the chance to add optional extras. For more information on this, please select one of the above garden buildings and contact us with your bespoke requirements.
What Makes Us Different?
For over 20 years we have been providing clients in Bedfordshire with beautifully-designed garden buildings so they can make the most out of their gardens. We work very closely with each of our clients to ensure we understand what type of building they require and what it will be used for. Throughout the building process, our team will be on-hand to answer any questions you have.
You can trust that every building is designed with speed, precision and care thanks to our dedicated and experienced builders.
The Benefits of a Garden Building from Prime Stables
Alongside our wealth of experience and technology, we offer the following benefits to each and every one of our clients in Bedfordshire:
Garden buildings built to your exact requirements – from helping you select a garden building to discussing design options to installation and aftercare, we offer a fully comprehensive service.
We have an in-house CAD team who can assist you with architectural drawings for your planning applications.
All timber used in our garden buildings is assessed to ensure exceptional structural integrity and aesthetics.
All garden buildings are designed by our in-house team, which means you're buying from trusted professionals who have over 20 years' experience in the construction industry.
Installation and delivery – we will deliver and install your garden building anywhere in Bedfordshire.
Call Us Today to Discuss Your Requirements
Explore our range of premium garden buildings and get in touch with our team when you have found a design you like. All buildings are made bespoke to order, and we can talk you through our recommendations if you're unsure regarding the size, dimensions and specifications of your chosen building.
We deliver and install garden buildings across Bedfordshire, simply contact our team to purchase yours in time for summer.
What Our Clients Say About Us
" " Admin Ladies. Just a quick note to say thank you so much for great service! Both in the office & the boys on site have completed a superb project & I'm delighted! Thank you, Su Pedersen


" " Hi Sarah Many thanks for our stables and the guys were fantastic. I've liked your Facebook page and I've sent you some more photos for your page!! The doors are the perfect height for Briagha and Maisie and I thought Briagha in the corner might be in the dark, but the light strips on the roof and the windows have made it nice and bright for her. The bigger box is my spare for a potential Briagha and foal – not next year, but the year after!!! Another little Falabella hopefully! Who knows – I might need you back to build some more stables !! Thanks again. Pauline Young

" " Dear Sarah and Natasha, Just to let you know that our horses are now as pleased with the beautiful mobile shelter from Prime Stables as we are – it took them a little while to get used to it especially as the sweet chestnut tree behind it is currently bombing the roof with chestnuts! Thank you all, including the guys who built it and put it up for us. With best wishes, Laria

" " Hi Sarah. The guys have just left. I am really pleased.....it is a real quality job. Very nice guys. I kept them supplied with tea every hour or two. Amazing how quickly they put it together!! We had a bit of a problem initially with the slope on the site, but I had ideas on solving tha. We worked together and they implemented a good solution. Thank you again for the way you have fulfilled what we wanted. Very satisfied customer!! Best wishes, John



" " Dear Sarah, Many thanks for final paperwork, and I understand Vikki's horse - "Apple" has quickly taken to her new shelter, and Vikki is very happy with the building. I've not see it myself, though I've seen the videos! I've forwarded your email to Vikki, and I'm sure she will also click that Facebook link for you too. Thanks again, and kind regards, George
See our Testimonials