Click Here To Request Prices
Create Space for Every Need with a Large Garden Room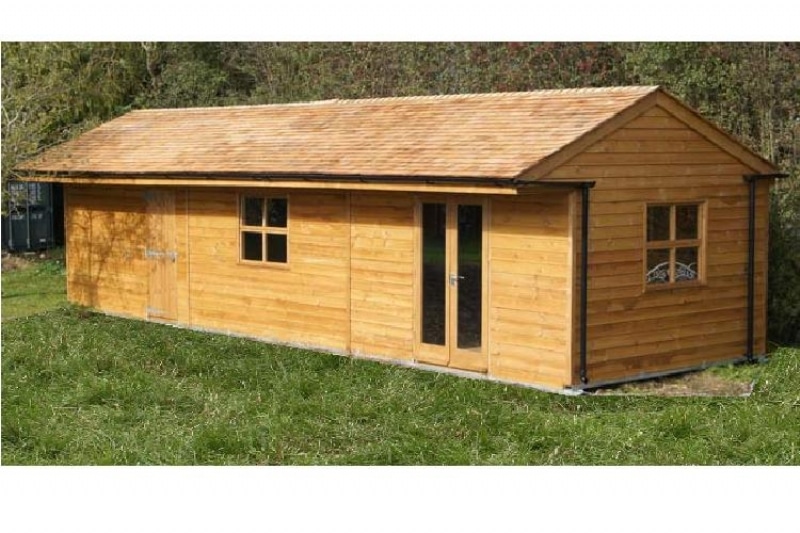 At Prime Stables, we understand that if you have a larger garden or exterior space, you may wish to utilise it as much as possible. That is why we are delighted to be able to offer a variety of large garden rooms to clients across the UK, providing them with a bespoke building that can be used for any purpose, at a size which suits all their needs.
Contact us when you are ready to begin placing an order for your very own large garden room and we can start discussing everything you need. Alternatively, you can also explore our website to find a design that you love before you get in touch to talk about transforming your own patch of the great outdoors.
Our Large Garden Room Specifications
Each of our wooden garden rooms is made from the finest kiln-dried oak timber we have available in our workshops. This will provide your building with further protection from the elements and a certain amount of insulation, but if you wish to use the room all year round, we can also insert a lining into your purchase's walls. This allows for full insulation, and the inclusion of double glazed windows assists this as well.
The doors we install in your large garden room will come with toughened glass as standard, as well as mortice locks to keep your most precious belongings safe, whether you intend to use the space as a shed, an office or as some extra room for outdoor relaxation.
Bespoke Ideas for Your Large Garden Room
We love what we do, and we completely understand that our clients will want garden rooms of any shape or size to be unique to their needs and personal tastes. This is why when they come to us with ideas in mind for their ideal garden office, spacious storage shed or relaxing summer house, we will do everything we can to produce the bespoke design that they have asked for.
We'll be glad to offer you the same service when you get in touch with us, so if there is a specific design that you would like for your very own large garden room, please do not hesitate to get in touch with us. Our carpenters have years of experience in crafting a range of wooden building types, so the space you have imagined for your own garden should prove little trouble.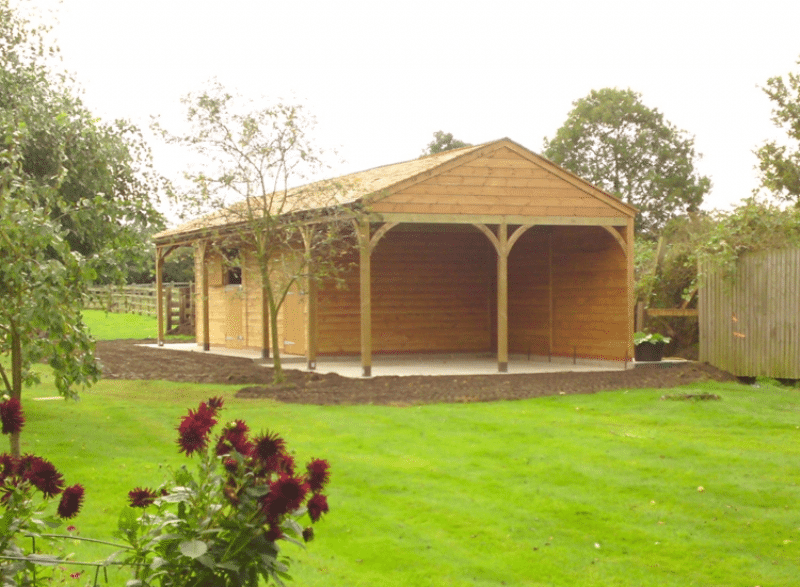 Our Prices
Every garden room we craft, whether large or small, will be made to order and to the exact specifications set out by the purchaser. Because of this, we quote each of our prices on an individual basis. This ensures that our clients are paying a price which is unique to them, for features which are unique to their chosen garden buildings.
We do not want you to worry about what this could mean for your budget, however. We understand that you will have been expecting to plan the cost of a garden building into your budget. That is why we will work closely with you to calculate the cost of your own planned garden building. This will involve going through each of your ideas and specifications carefully, taking each into account before we bring you back a quote which suits your budget entirely.
Will Your Large Garden Room Require Planning Permission?
In most cases, the wooden garden houses and home offices we provide do not require planning permission under UK law. However, this does often depend on the size of the structure you are intending to have installed on your property. Garden buildings, whether they are to be used as extra storage space or a garden shed, an outdoor living room or an office and study area, should all remain within the following size-based guidelines if you wish to avoid the hassle and frustration of filling out and sending in the forms:
The garden room should be single-storey.
The garden room should have a maximum eaves height of 2.5 metres and an overall height of 3 metres if single pitched.
The garden room should have a maximum eaves height of 2.5 metres and an overall height of 4 metres if dual pitched.
The garden room should not exceed a floor area of 15 square metres.
The garden room should not exceed a floor area of 10 square metres if built on designated land (a Conservation Area, part of the Broads, an Area of Outstanding Natural Beauty or a World Heritage Site), more than 20 metres from the original property.
The room's size should be less than half the land surrounding the original property. Here, "original" means the house as it was originally built, so previous extensions are not included in this.
You may find other restrictions in place that could prevent you from building the wooden garden room that suits your needs. To find a full list of these, please see our advice on garden rooms and planning permission, or contact your local authority for details specific to your area.
Why Build a Large Garden Room with Prime Stables?
We take pride in the stunning variety of products we provide for clients based across the UK, and there are many reasons we are able to place ourselves among the highest-ranked timber construction firms in the country. Below, we've listed just some of these reasons for your consideration. These have often been the defining factor in our clients choosing to work with us, rather than another firm offering similar services:
Happily, we are a family-owned and run firm and we listen to the needs of our clients. This ensures that they will always receive the large wooden garden building that they need, exactly as they have imagined it.
Our team will be glad to assist with every stage of the purchasing process. They will even be able to help you decide on the structure you need, if you are unsure.
Every product we create is put together by our team of master carpenters, from the highest quality timber we have available to us.
Our in-house CAD team can help you out with any applications you need to make by producing planning drawings on request.
We have a fully committed installation team ready and waiting to travel to your location. They will build your new garden building exactly where you would like it, saving you time and money that could have easily been spent putting the parts together.
Build the Extra Room You Need Today
If you have a large garden space and you require and equally large summer house to make the most of the pleasant weather in the warmer months, or even if you have been looking for the perfect room in your house to turn into a home office and realise you need somewhere entirely new, Prime Stables can help you turn your ideas into your reality.
Our team is ready to put together any bespoke design you need for your large garden room, whether it should be a simple shed for storage or the lightest, airiest art studio for your favourite hobby. We will then deliver and install the finished product for you.
Contact us via telephone or send us an email today and one of our friendly team members will be delighted to discuss your specifications. They will be able to help you place your order for the garden room which suits all your needs, as well as any of the outdoor spaces that you have. If you have any questions at all, we can also use this time to answer them and provide any reassurance needed before we begin.
What Our Clients Say About Us
" " Dear Sarah l am really pleased with it and have already given your details to someone who stopped and asked me about it. I can't fault the lads who put it up. Best wishes, Pam


" " Dear Sarah. I would like to thank you all for such quality service. From my first contact with Natasha and Tobias to the shelter being delivered and erected by Mark and (I think John)? They were all very helpful and friendly. We are very pleased with shelter as are the donkeys and Shetland's who now can get out of the weather. I have already passed on your details to a friend who saw it and was impressed, so hopefully she will be contacting you soon. Wishing you a very Happy New Year. Kind regards.

" " Dear Sarah and Natasha, Just to let you know that our horses are now as pleased with the beautiful mobile shelter from Prime Stables as we are – it took them a little while to get used to it especially as the sweet chestnut tree behind it is currently bombing the roof with chestnuts! Thank you all, including the guys who built it and put it up for us. With best wishes, Laria

" " Dear Sarah. The shelter is being much appreciated by the alpacas and me too when it`s pouring with rain! I said to the guys that I would take some photos of the shelter when the weather is better so will do so when suitable. I don`t do Facebook so can`t respond to your request in that way but thank you for a very nice shelter which looks good and robust and please thank `your boys` again for their work in erecting it and hope they got back safely. I would certainly recommend you to anyone who needed a shelter/stable. With best wishes, Katie

" " Dear Sarah, Thank you very much for another fabulous field shelter. My cows love them! Your installation teams have been brilliant on each visit. Kind regards Fizz
See our Testimonials

Need some assistance?
CLICK HERE