As the UK's leading supplier of high quality garden buildings and wooden outbuildings, our team of experts at Prime Stables can install a wooden shelter of your specification for your garden. Our wide range of luxury heavy duty wooden shelters can bring a beautifully crafted structure to your garden, as well as offering a versatile building that can offer a range of solutions to suit any occasion.
Our pressure treated timber wooden garden shelters can greatly enhance the use of your garden. By creating an area with weather protection to include your own furniture, barbeque, hot tub, or even a wooden horse shelter, our range of expertly crafted wooden shelters can suit any of your needs.
Our team of garden building construction experts have over 20 years of experience in this industry, and will be more than happy to help design your new garden office, and create a garden home office designed to suit your needs.
Whatever outdoor space you require, just supply your design or explain your ideas to our team of experts at Prime Stables, and we can offer a huge range of solutions to fit your designs.
To get started with our experts on designing your own wooden garden shelter for any of your needs, and explore the possibilities your garden holds, and to get a free quote; contact us today.
Static Field Shelters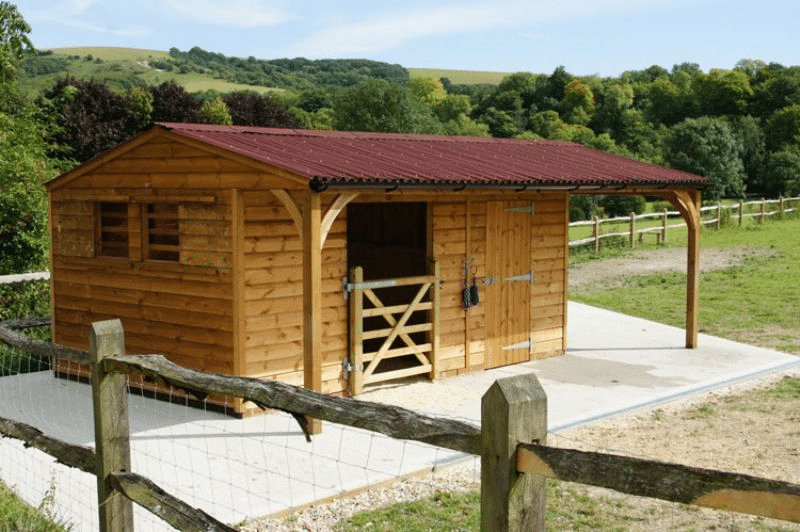 Whether you're looking for a small wooden shelter to protect your horses from the wind and rain, or a wooden buggy shelter for those summer family gatherings with the kids, our static wooden shelters can provide protection for everyone in the family.
Our bespoke static field shelters can be installed as a stand alone building, free-standing buildings, or incorporated within your stable block. They are also available in a variety of standard sizes, from 3.6m x 3.6m to 12m x 3.6m, with one two or three openings to suit your needs perfectly.
Installing a static field shelter does require a bit of groundwork preparation prior to the installation proper. The most economical option is to use railway sleepers to create a perimeter base for the walls to sit on. Alternatively, you can also use a concrete base with a single course of bricks.
If a static field shelter sounds like the best option to suit your needs, contact us today.
Mobile Field Shelters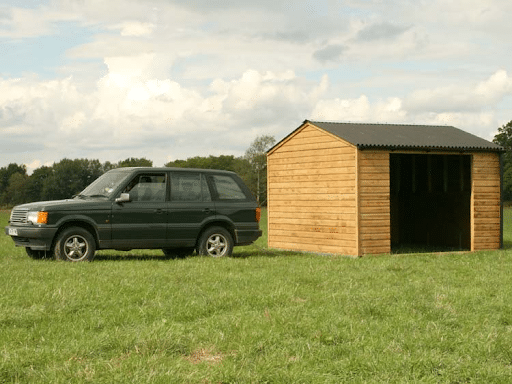 Our mobile field shelters can provide the easiest and most practical way to provide shelter for your horses. Our expert craftsmen at Prime Stables can manufacture a bespoke mobile field shelter to suit your specific requirements. Any problems you've been facing can be solved by our team of experts who will work with you through every step of the designing and building process.
These shelters are easily moved around your field and other outdoor areas, the excellent location flexibility is provided by our specifically designed towing frames, allowing even our largest 10.8 metre mobile building to be towed with ease. Alongside this, they're also extremely durable as they are made with our pressure treated timber; and you don't need to acquire planning permission to install this type of outbuilding.
If a mobile field shelter would be the best fit to your needs, contact us today.
Covered Walkways and Ride Through Arches
Our experts can help you design, and install, an impressive entrance to your stable yard with one of our expertly crafted ride through archways. If you're looking for something to avoid the very British weather when you leave the house, we can also ensure you're provided with easy access to your field or much heap with our covered walkway canopies and walkway systems for homes. These are great options for the horse lover, those requiring a large wooden shelter or wooden field shelter so they can gain easy access wherever they need to go.
Whatever needs you may have, we can design a bespoke space, or walkway, that works perfectly for your needs.
We manufacture everything to order, to suit your needs, so to book your free consultation and to see how we can bring your vision to life.
Contact us Today
To get one of our expertly crafted wooden shelters designed to your specifications and designs, contact our team today and we'll be more than happy to help. We at Prime Stables are a family-run company specialising in providing high-quality solutions. Our experts have worked in the industry for over 20 years, and we can work with you to ensure your new wooden shelter is perfect for you. If you don't see an option in our range above that suits your needs, still contact us – we may have the perfect solution for you.